08 April 2015
Last Sunday, I went to Kanayama Shrine in Kawasaki city in Kanagawa Prefecture, neighboring prefecture to Tokyo. Over there held annual festival named Kanamara-Matsuri.
I saw very surprising scenes. The giant symbols of male genitals are exhibited.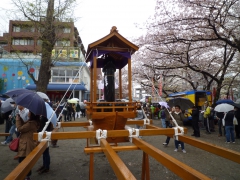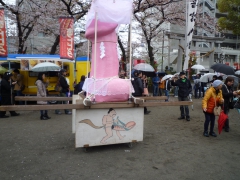 They are the things worshiped for centuries at the shrine.
The festival was to pray for the health of people, especially to avoid sexual transmitted diseases.
The symbols were to be carried outside the shrine and to be exhibited on streets in the town.
They are portable shrine, so called Mikoshi.
Not just Mikoshi, there sold candies whose shapes were like the genitals of female and male.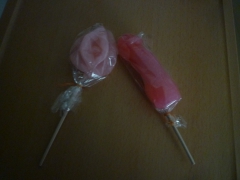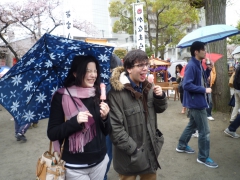 One third of spectators were foreigners although this place is not known as major tourist spot but it seems known as Japan's unique culture.
It is very unique taking Japan's conservatism into account. Japan is also very modernized and industrial state.
Then why such festival is held.
It is because that was Japan's very original culture before modernization in late 19th century, before westerners came to educate us to be "civilised." That was westerners who changed our attitude towards sex. Since then, sex has been treated as an indecent matter that we should avoid talking about.
Now westerners are campaigning free sex and praising Japan's native culture that has been forgotten.
The priest of the shrine claimed that significance of the festival is to know that you are living life. If not, one could never come to the festival.
It is not indecent thing but rather we should worship as humans.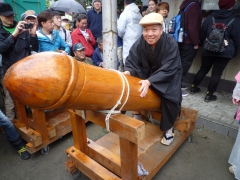 15 February 2015
A story of a man whose father was shot in front of him on the cotton field by a white farmer and later became a house servant of the farmer and then hotel servant and finally was hired by the White House.
It is a fiction but it is based on a real batler who served the White House from 1950's Eisenhower until Reagan's administration.
It was like Black history of America.
How Black people struggled with the oppression and finally be honoured by the society.
Maybe Obama should have experienced similar things.
In order to change the society, people need to be not only brave but also clever. You cannot just fightback. You might have to get along with majority of the society regardless of their unfair treament of you.
It is a fiction but surprising thing was even in the White House, Afro-Americans were discriminated in salary and positions. It was fixed after Reagan's administration 1980's.
I like that part of America's history, not interested in founding fathers.
It is common with current event happening in Okinawa, Japan.
Because of that, America is no longer my favourite nation.
I can only feel mutuality with the oppressed Afro-Americans who lived in the past.
29 September 2014
I could never understand why a girl like her has become so popular internationally.
Her name is Kyary Pamyu Pamyu.
She is like Lady Gaga of Japan. Her sales points are very unique custumes.
But her singing is not music, just high tone voices.
Last Sunday I went to Tokyo Metropolitan Gymnasium. There was a festival of concerts, fashion shows and exhibitions. Those were awesome but the biggest event was her concert in the final session.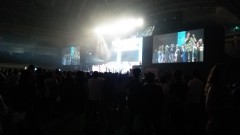 What surprised me was there were many audience from abroad including Europeans. Some wore custumes like she wore.
Can they understand and enjoy her singing?
It seems they did.
I can never follow what they are doing.
What is going on in this world? I felt like Alice in the wonderland.
31 July 2014
I saw the dragon there, in Henoko, Okinawa prefecture, southernmost chain of the islands in Japan.
You might not believe that. This is the proof.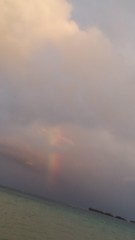 Yes, it looked like rainbow. But the sea is known to be sacred place for the dragon. The locals worship it and established a shrine on the sea coast.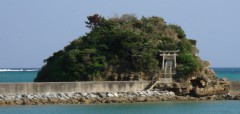 Recently the dragon seems not very comfortable living there because of construction project going on his or her place. On the sea coast is US Marine training camp base, Camp Schwab. There is a plan to expand the base by reclaiming the sea where he/she lives.
The locals oppose the plan because their environment would be deteriorated as well. However, US military and the Japanese government never mind local resisitance movement.
Will he/she leave as the things are? I doubt it.
The sea reminds me of what I experienced 3 years ago in Kaminoseki, Yamaguchi prefecture in the mainland of Japan. Actually I learnt about that town when I joined environment activists meeting in Henoko. I met Kaminoseki activists who protest the construction project that reclaims the sea to build nuclear power plants there. They did the same things as locals in Henoko do, kayaking the sea to prevent construction work from proceeding.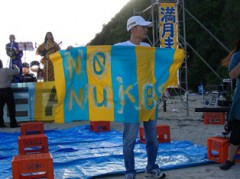 So I visited Kaminoseki later. There I saw the same scene.
Activists on the beach calling for the halt of the project but the authorities and power company never minded their voices. The project was about to be proceeded and the beach might be destroyed sooner.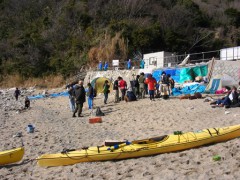 I felt something when I was on the beach. I sympathized, and then prayed to call for the help.
Two weeks later a big earthquake and tsunami occurred in Fukushima. 4 nuke plants were destroyed by the nature and massive radioactives were released to the environment.
Now the construction is halted in Kaminoseki (not yet terminated.) No nuke plants are operated in Japan at present.

In that town, there enshrined the sea dragon.
Was it just an coincident? I just don't think so. That is why I've been feeling fear.