09 August 2009
American dolphin trainer named Ric O'Barry is taking on Japan's traditional culture.
He loves dolphins so he doesn't like Japanese dolphin hunting in Taiji, Wakayama Prefecture.
He came to the town and shoot the scenes of hunting and made documentary film.
Here comes again after whaling in Antarctica. This time within Japan's territory. It seems he and his friends think Japan is part of US territory.
I don't eat dolphin meat. But the localies hunt and eat them for centuries. That is their culture and tradition. Japanese government provides the license to them. It doesn't matter whether their hunting method is cruel or not. We, human eat animal meat in order to survive. You can see as graphic scenes as that in beef processing factories.
Well, I believe such protestants are small portion of all. When I was in the U.S., Americans I met said they don't care about cultural thing. Unless the species is endangered, they don't care who eats what. I think that is the ordinary people's response.
I was against Japan's whaling in Antarctica because it is not worth it. There is not high demand any more and it hurts Australia's tourist business. I never agree with Aussie's idea that whales are cute and intelligent mammals so we shouldn't kill. It can mean you can kill less intelligent animals? Sounds racist.
Is it white Christian ideology that once you believe one thing is good, force others to follow?
Interesting thing is in 19th century westerners came to Japan and Southern Pacific islands and criticized local gay culture as "uncivilized" from their standard. Then the gay culture declined.
Now what are westerners doing about gay issues now?
If Mr. O'Barry really cares about Japan's cute mammals lives being threatened, he should go to Nago city, Okinawa. There are many mammals that are threatened by construction of US Marine base. He doesn't even have to visit Japan, he can go to Washington first. Actually WWF sued US Defense department for that matter. He should forget the dolphins but saves dugongs. Or he wouldn't because dugongs don't do the tricks he teaches?
WWF-Japan leader calls for dugong research by halting USMC training exercises
Dear Dave: I don't buy US goods, either lately. Whaling in Antarctica or dolphin hunting in Taiji are not illegal. Internationally and domestically. Americans are exporting beef with mad cow disease to the world. They let cows eat bones of dead cows, that cause mad cow disease.
I haven't seen the movie. I want to see the movie anyway. Documentary can be biased.
24 May 2009
Japan is one of the most democratic nations in the world.
In mid-May, Japanese naval self-defense force (actually Navy) guarded Japan's NGO, PEACE BOAT's cruise ship in Somali coastal areas.
This NGO is run by peace activist group and manages voyages on chartered ship.
This time their ship was on voyage of round-the-world trip. They had asked the Navy to protect their ship while it passed Somali coast.
Strangely, they protest Japanese government's decision to dispatch the navy to the Somali coast.
They publicly announced the opposition. They say they can protect themselves, otherwise Japan's coast guard should protect them.
But the travel agency which managed this voyage asked the Defense Ministry to guard the ship for the safety of the passengers.
Then the NGO met public criticism because their publicly announced stance and what they actually chose to do was different.
The organization has always been criticized by conservatives because their activity is too idealistic like defending Article 9 of the constitution which bans the state's possessing of military force. They have done a big campaign of "Protect Article 9" like religious organization's convention.
They believe Article 9 can protect themselves from bad militias. They believe they can always make peace by negotiation.
No arm force on the earth. But the reality was they were just hypocrite. They were like travel agent group which uses PEACE as ad copy.
Well, I know they have the right to be protected by the navy. The passengers are Japanese citizens. That is the navy's duty.
I am very proud of our navy which does that. Japan is democratic nation so even those who oppose the government decision can have the right to be protected.
Thanks for PEACE BOAT, it was proved how our country is democratic nation.
We are in a free society. We can say whatever we want, and can go wherever we want with the protection of the government.
Of course we can. We are tax payers. The sovereignty resides in the people.
And we are a rich country, too. This round-world vovage cost 1.5 million yen (11,000 euros, 10,000 US$) or even cheaper if you got board on it as volunteer staff.
The passengers could have great time having parties, enjoying fashion shows, singing, and discussion of the world peace while being protected by the navy, whom they don't like. They are protected from the pirates they think the consequence of the poverty rich nations caused and whom they think should be helped by their government's aid rather than the navy.
How lucky I am to be born as Japanese citizen!
18 April 2009
Months have passed since Tamogami was dismissed due to his public essay which justified Japan's aggression in Asia and Pacific during WW 2 and then thrown into the spotlight in November last year. During this time, we have heard much criticism, mostly negative, about Tamogami and his essay in the media. But his popularity is high and he has published several books and appeared media outlet so many times.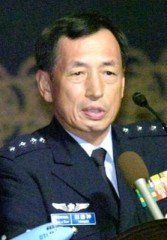 The fundamental errors in Tamogami's take on history have been pointed out, and there have been murmurs of doubt between intellectuals about his ability to lead the Self-Defense Forces. This man is being regarded as a demagogue who was not even competent enough to launch a coup.

 However, similar criticism was placed on military politician Adolf Hilter who appeared in Germany after World War I. People said that a worthless guy like him will never be able to take over the country. But he did. Intellectuals completely underestimated his power.

 I cannot agree with Tamogami's historical views whatsoever. They are obviously mistaken. For some reason, however, I feel very emotional when I hear him speak. This can likely be said for a lot of people, not just myself. One senses that he has the ability to relieve our discontent with the current situation. It is the feeling of worry for our country, no matter what our position. It is not so much the actual meaning of his words that is important, but rather the desire to share his passion.

 In fact, the current state of Japan is similar to that of the Weimar Republic of Germany. The recession is deepening, and frustration with a government that is weak in foreign diplomacy is swelling. I myself feel very frustrated with the Japanese and American governments that are essentially renouncing our sovereignty by deploying a home port for a nuclear-powered air craft carrier in Yokosuka. As a result, I feel a grain of hope hearing Tamogami's words that advocate revising the constitution to allow for a defense system that is independent from the United States.

 However, we must be careful not to fall for his words too easily. He is harming our national interests with his clearly mistaken actions. It is unfortunate that this may have been the only way for him to catch the interest of the Japanese people in Japan's current situation. Its is pathetic. Politicians and intellectuals are always promoting themselves under the pretense of helping others and eluding arguments that get to the heart of the matter.

 In this case, those who see Tamogami as a threat must consider circumstances equally as seriously as he does and intend to actually implement that reform. Ideologies where one simply prays for peace because of a distaste for war will lose in the battle with reality.
Regarding my frustration with deployment of a nuclear powered aircraft carrier in Yokosuka, the below describes the issue.
16 March 2009
From Cherbourg, France 2 ships that carries very, very hazardous nuclear fuels, so called MOX departed. The ships' destinations are several Japanese ports near nuclear power plants.
That is nothing but bothersome not only to Japan but also France and other nations in the world. From France to Japan the ships would sail on the Atlantic ocean and Pacific oceans. If the MOX fuels got some troubles such as radiation leak, coastal regions near the ships would be affected. The potential regions would include North America, South Africa, Australia, New Zealand. The transported MOX fuels contains 1.4 tons of plutonium that can possibly be converted to nuclear weapons.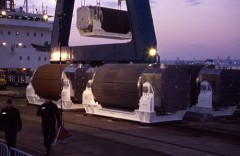 If the terrorist attack the ships, what would happen? Is this what people of the world can be happy with?
That MOX fuels are not even welcome by Japanese. Only by people related to nuclear power plant businesses.
The MOX fuels are very inefficient. The current power plants in Japan are not well equipped for MOX fuels.
The use of MOX fuels are not even permitted by local authorities. After the fuels arrived, it would have to wait for years in order to be used in the plants. It may never be used!
People of the world, especially French, Americans, Australians, New Zealanders, and Japanese. Please protest this stupid and dangerous sailing. That is much worse than whaling ship and even nuclear powered aircraft carrier like CVN 73.