20 August 2009
See this videoclip! He is Japan's new hero. Sorry, only Japanese version.
His speech in Hiroshima. Scenes of anti-nuke group activities, and Uigurs who protest nuclear tests done by China (time code: 3:42) in the city come first.
And the people who protest and support his speech (time code: 6:34) and then scenes in the convention hall which his speech took place.
He was Japan's Airforce chief but was dismissed because of his provocative essay he released in public.
I've already introduced him in other article on this blog. Please read this.
He is passionately patriot. But his statements were too provocative.
But he and I have things in common. Both of us want to get rid of U.S. military bases from Japan to protect our sovereignty and tradition.
He even claims Japan should arm with nuclear weapons.
I've met him twice and shook hand with him. I could take a picture of him. The below is what I took at Kudankaikan hall in Tokyo, where his speech was held.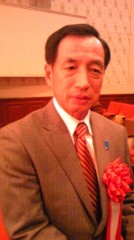 He was very polite and gentle. His speech was filled with passion.
Second time was the meeting for journalists. He has made a similar speech. I was given a opportunity to ask a question. I denounced his statement about denial of Nanking Massacre because I've met some survivors of the atrocities. But I said to him, I am for Article 9 amendment so that Japan can possess legitimate military but it was illegal to cause civilian casualties even at the time Nanking Massacre occurred. Why not we swear not to repeat the same mistake like Germany did?
His response was kind of surprise. "I've met a military official in China. They spoke so ill of what our military had done over there. I wanted to tell him, why not they spoke the same things about Britain? We are better than what Britons did. The Convention treaty was signed between the two countries. It was done. Why can't we forget about it?"
He seemed to admit the fact that the atrocity occurred. He was kind of honest and clever, I think. He just try to use this history issue to change his country's military policy. Interesting guy!
Thanks to him, I rethink about what patriotism is and what our tradition is. I became patriot and traditional.
Recently I started to wear Japanese traditional clothes including swim suit of the below. The suit became unpopular since the U.S. occupied Japan because Americans thought such Japanese tradition was barbaric. Now I am trying to recover this tradition. I am proud of wearing it and showing myself in it in public. This suit makes any man sexy and real Japanese traditional man, so called Nihon Danji. It is not only used for swimming but participating in festivals. The below is how I wear it, please enjoy watching.
12 August 2009
Walt Disney has been known as Hollywood's most racist and sexist person in history. His movies reflect his views.
"Sleeping Beauty" was one of the good examples. It reflects public opinion at that time. The film was released in 1959.
The princess named Aurora was cursed by a witch. The curse was that she would die at the age of 16. One of kind fairlies tried to get rid of the curse. But what she could do was to make it rather gentler one, which was fall into deep sleep until she be kissed by a man she loved.
3 things matter in the story.
1. A woman should be waiting for a man whom she has to depend on.
Girls are made to believe that. They are not expected to be independent. They are brainwashed to believe that they cannot live without reliable men's supports. How pity!
2. Bad guys are all Black.
Black witch took on the princess and prince. Her subordinates are crows. In the old days, crows are discriminately term for Afro-Americans. Disney would be surprised to know President Obama.
3. Your private life would be sacrificed for the statehood.
Like marriage between Princess Aurora and Prince Phillip who was her neighboring country's prince. Although they met in a forest accidently without knowing who they really were, they fell in love as though they had already met "Once upon a dream." That implies that people should think it is honorable to sacrifice your life to serve your country. Think that is your destiny.
Wow, interesting analysis! I don't like Disney film because they always contain such brainwashing methodology.
Disney films are great teaching materials for media literacy. DON'T BE BRAINWASHED, GOOD AND SMART PEOPLE OF THE WORLD!!
Remember Disneys and Nazis are lookalike. I want Tokyo Disneyland removed from our land as well as US military bases.
TOXIC and DANGEROUS!
09 August 2009
American dolphin trainer named Ric O'Barry is taking on Japan's traditional culture.
He loves dolphins so he doesn't like Japanese dolphin hunting in Taiji, Wakayama Prefecture.
He came to the town and shoot the scenes of hunting and made documentary film.
Here comes again after whaling in Antarctica. This time within Japan's territory. It seems he and his friends think Japan is part of US territory.
I don't eat dolphin meat. But the localies hunt and eat them for centuries. That is their culture and tradition. Japanese government provides the license to them. It doesn't matter whether their hunting method is cruel or not. We, human eat animal meat in order to survive. You can see as graphic scenes as that in beef processing factories.
Well, I believe such protestants are small portion of all. When I was in the U.S., Americans I met said they don't care about cultural thing. Unless the species is endangered, they don't care who eats what. I think that is the ordinary people's response.
I was against Japan's whaling in Antarctica because it is not worth it. There is not high demand any more and it hurts Australia's tourist business. I never agree with Aussie's idea that whales are cute and intelligent mammals so we shouldn't kill. It can mean you can kill less intelligent animals? Sounds racist.
Is it white Christian ideology that once you believe one thing is good, force others to follow?
Interesting thing is in 19th century westerners came to Japan and Southern Pacific islands and criticized local gay culture as "uncivilized" from their standard. Then the gay culture declined.
Now what are westerners doing about gay issues now?
If Mr. O'Barry really cares about Japan's cute mammals lives being threatened, he should go to Nago city, Okinawa. There are many mammals that are threatened by construction of US Marine base. He doesn't even have to visit Japan, he can go to Washington first. Actually WWF sued US Defense department for that matter. He should forget the dolphins but saves dugongs. Or he wouldn't because dugongs don't do the tricks he teaches?
WWF-Japan leader calls for dugong research by halting USMC training exercises
Dear Dave: I don't buy US goods, either lately. Whaling in Antarctica or dolphin hunting in Taiji are not illegal. Internationally and domestically. Americans are exporting beef with mad cow disease to the world. They let cows eat bones of dead cows, that cause mad cow disease.
I haven't seen the movie. I want to see the movie anyway. Documentary can be biased.
24 May 2009
Japan is one of the most democratic nations in the world.
In mid-May, Japanese naval self-defense force (actually Navy) guarded Japan's NGO, PEACE BOAT's cruise ship in Somali coastal areas.
This NGO is run by peace activist group and manages voyages on chartered ship.
This time their ship was on voyage of round-the-world trip. They had asked the Navy to protect their ship while it passed Somali coast.
Strangely, they protest Japanese government's decision to dispatch the navy to the Somali coast.
They publicly announced the opposition. They say they can protect themselves, otherwise Japan's coast guard should protect them.
But the travel agency which managed this voyage asked the Defense Ministry to guard the ship for the safety of the passengers.
Then the NGO met public criticism because their publicly announced stance and what they actually chose to do was different.
The organization has always been criticized by conservatives because their activity is too idealistic like defending Article 9 of the constitution which bans the state's possessing of military force. They have done a big campaign of "Protect Article 9" like religious organization's convention.
They believe Article 9 can protect themselves from bad militias. They believe they can always make peace by negotiation.
No arm force on the earth. But the reality was they were just hypocrite. They were like travel agent group which uses PEACE as ad copy.
Well, I know they have the right to be protected by the navy. The passengers are Japanese citizens. That is the navy's duty.
I am very proud of our navy which does that. Japan is democratic nation so even those who oppose the government decision can have the right to be protected.
Thanks for PEACE BOAT, it was proved how our country is democratic nation.
We are in a free society. We can say whatever we want, and can go wherever we want with the protection of the government.
Of course we can. We are tax payers. The sovereignty resides in the people.
And we are a rich country, too. This round-world vovage cost 1.5 million yen (11,000 euros, 10,000 US$) or even cheaper if you got board on it as volunteer staff.
The passengers could have great time having parties, enjoying fashion shows, singing, and discussion of the world peace while being protected by the navy, whom they don't like. They are protected from the pirates they think the consequence of the poverty rich nations caused and whom they think should be helped by their government's aid rather than the navy.
How lucky I am to be born as Japanese citizen!