29 February 2020
Tokyo 2020 Olympics is on the verge of cancellation due to the outbreak of novel coronavirus.
The main stadium in Tokyo.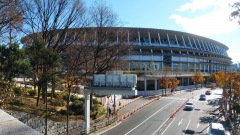 It seems, this disease keeps spreading for months worldwide including the host nation, Japan. It is impossible to lock down. The only solution is invent the vaccine. Even someone found the one for the virus, it will take a few months or even years to bring it to practical use.
It is reported that IOC will decide whether to cancel the games by May at latest.
In my opinion, I don't care. I was actually against the Olympics to be held in Tokyo because of too much crowds and heavy traffic. Tokyo is already too crowded and busy.
Citizens don't want any more crowds in the city.
As for economic effect, it is just for a few weeks. It does not last so long and only benefits big companies who want to gain big money by sponsorship and construction of facilities.
In fact such things are true in every Olympics these days. It has been much commerialised for money making. Athletes have to do the matches in inadequate season and time to match with American TV broadcasting.
Summertime in Tokyo is too hot for athletes. It had to be scheduled in Autumn. 1964 Tokyo Olympics were held in October. But it was not good season for Americans because of baseball matches.
Swimmers had to swim early morning like 8AM in 1988 Seoul Olympics because that time was prime time in America.
In early 20th century, Olympics were used to heighten nationalism like Nazi-Germany did in 1936 Berlin and America did in 2002 Salt Lake after 911.
It is said if the Olympics were cancelled, it may be postponed to next year's same season.
But you never know when the outbreak ends.
But most ideal thing is to cancel the event so there is no more fuss. Then no more Olympics from now.
Tokyo, Beijing, Paris, and Los Angeles. All cancelled. Or each event can be scaled down or disperse.
It costs so much money and places too much burdens on athletes.
It is a great timing to rethink the significance of Olympics. The Olympics may be one of remnants from former century.
30 April 2016
March and April were the big months for anti-nuclear movement of this year. 5th anniversary of Fukushima Daichi nuke plant's accident and 30th anniversary of Chernobyl nuke accident.
Since 5 years ago, Japanese public opinion has turned out to be mostly anti-nuke generation. Before that, survey results are usually pro-nuke generation.
Since that time, terms such as sievert, becquerel, caesium, iodine, plutonium, strontium, thyroid cancer, china syndrome, and etc have become very familiar. Not just with experts but ordinary citizens.
Fukushima Prefecture still suffer from radioactive released from the crippled plants.
I went there last month. I saw the radioactive-level measurement machine in front of railway station located 45 km away from the plant. Neighboring area of Evacuation zone.
That level is double the normal level before the accident. Radioactive still remains.
It is reported that tens of times of higher percentage of thyroid cancer cases are found among minors in Fukushima. That level is similar to Chernobyl which was estimated to release 10 times more radioactives to the environment.
Currently only two plants out of 50 in Kagoshima Prefecture are being operated. Last month two plants in Fukui Prefecture were shut down due to the court order after citizens filed lawsuit against the power company.
In Tokyo, on 5th anniversary day, citizens gathered at prime minister's residence to show their protest.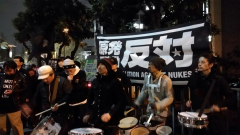 In a corner of a ministry building which is in charge of nuclear energy administration, protestants set up occupy tents to show their will since September 2011. It was modeled after Occupy Wall Street movement.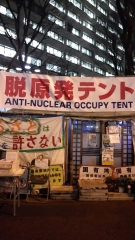 Kan Naoto who was a prime minister at that time interviewed by Asahi Newspaper recently claimed there was a possibility that whole Tokyo area would have become evacuation zone. It was a kind of miracle that it did not go so terrible. It may be attributed to God (or Buddha).
I remember that 5 years ago, I was working and emailing with a client who said the job we were dealing could be worthless because we never knew how our society would have become.
In Chernobyl another centuries are needed to completely dismantled the crippled plant. Thousands years to recover the area to get back to normal zone. As Einstein claimed, humanity and nuclear can never coexist.
Renewable energy has been booming lately. In next decades price of renewable energy will be much lower than nuclear energy.
Nuclear age is coming to end. We must end it!
Not just that, we must change our lifestyle so that we do not need so much energy that we have to rely on such hazardous energy source.
17 August 2015
Firework, I saw at a military base in Tachikawa.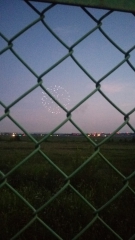 Dancing on the street, in kimono. Kagurazaka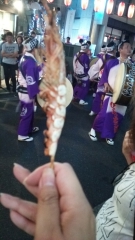 Floating lanterns on Sumida River, Asakusa. Each lantern represents soul passed away.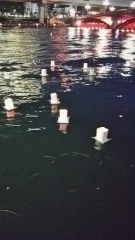 22 April 2015
I went to the exhibition of John Fitzgerald Kennedy at National Archives of Japan located near the Imperial Palace in Tokyo.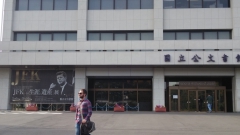 I went there with one old American couple whose young days were when JFK were alive as US President. They told me that the assassination was shocking to them because he was very popular at that time.
The admission was free. It has been held since early March and is scheduled to end May 10, 2015. The description of exhibits are mostly Japanese. So I explained to them what each one of exhibits was about. Actually they knew what they were because those things were very familiar with them already.
I focused on one corner. The exhibits that relate to his relationship with Japan before he became a politician.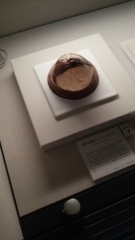 A cononut paperweight and a letter to former enemy.
These things come from his war-time experience in Solomon islands, Southern Pacific 1943. JFK was on torpedo patrol boat with his crews at night. The boat was hit by Japanese naval destroyer, Amagiri and sunk. JFK and his men were all thrown out to the sea but they swam to one island. There they met locals. JFK asked them to deliver a coconut which the message of calling for help was written on to the US military corp. Then he and his men were all saved. By that incident JFK was awarded medals.
After the war, JFK made the coconut into paperweight as a memorial. JFK wrote the letter to former captain of the destroyer, Hanami telling him that he wanted to meet the captain because yesterday's enemy turned today's friend. Later JFK invited him to his presidential election campaign. The captain could not go to the US but his best friend, Onozaki, who was also a crew of the destroyer went. The photo that Onozaki and JFK together were printed out in newspapers in US that might help JFK win the election.
He might have felt saved by the Japanese military. I speculate that the enemy did not shoot at them though they found them in the sea or even gave them a rescue boat or some way to save their lives?
JFK to me has weird relation. When I was in US two decades ago as a college student, some of my classmates said to me that I look like JFK. I was glad to hear that.
I remember when I went to Arlington cemetery in Washington, I could come to his grave without knowing the route, seemed like he invited me.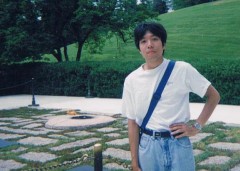 He and I have things in common. I am Catholic and have back pain problem from young days still struggling with it some time. He and I are very much interested in civil rights advocacy.
The memorable thing I saw in the exhibit was his speech film on Civil Right Act in relation to Alabama state's defiance to Federal court order to admit Afro-American students to its state university.
He said,
"We preach freedom around the world, and we mean it, and we cherish our freedom here at home, but are we to say to the world, and much more importantly, to each other that this is the land of the free except for the Negroes; that we have no second-class citizens except Negroes; that we have no class or caste system, no ghettoes, no master race except with respect to Negroes?
Now the time has come for this Nation to fulfill its promise. The events in Birmingham and elsewhere have so increased the cries for equality that no city or State or legislative body can prudently choose to ignore them.
The fires of frustration and discord are burning in every city, North and South, where legal remedies are not at hand. Redress is sought in the streets, in demonstrations, parades, and protests which create tensions and threaten violence and threaten lives.
We face, therefore, a moral crisis as a country and as a people. It cannot be met by repressive police action. It cannot be left to increased demonstrations in the streets. It cannot be quieted by token moves or talk. It is time to act in the Congress, in your State and local legislative body and, above all, in all of our daily lives."
That speech sounds like current President Mr. Obama's endorsement on gay marriage.
After a half century, a new type of civil rights movement seems to be on. The same rhetoric are used for both pros and cons. Majorities vs. Minorities. Conservatives vs. Liberals.
Federal protection law to ban discrimination based on sexual orientation and gender identity has been on debate.
Just like that State of Alabama rejected court order to provide marriage licenses to gay couples.
That is why Obama is called, Black Kennedy. He succeeded JFK's will to protect civil rights.
Interestingly enough, unlike race matter, sexual orientation matter is common worldwide. So America can be a good role model for this issue.
In relation to it, this coming weekend April 25 & 26, 2015, Tokyo celebrates gay pride event in Yoyogi Park that includes street parade. I will actually join it. Last March one ward of Tokyo, Shibuya passed an ordinance that provides partnership certificate to gay couples. The first political accomplishment in Japan's gay movement.
Japan's public opinion regarding gay issue has recently changed.
According to the recent poll conducted by Mainichi Newspaper, majority of Japanese support gay rights, especially among younger generation. More people approve of gay marriage than those who oppose it.
Is it due to what has happened recently in the U.S. ?
Good role model. Hope US keep being good role model for us.
Since I think of JFK, there are 3 songs that come up with. The songs released in the year he was assassinated. Did he hear the songs and enjoy them?
One is related to civil rights movement, "Blowing in the wind", one implies coming of Vietnam war, "Green Green." The other implies the oppression I am facing with many other people regarding US policy which current US Ambassador to Japan, Caroline Kennedy (JFK's daughter) has to deal with.
15:16 Posted in Japan News, Music, Politics, Tokyo Life, US-Japan relationship | Permalink | Comments (0) | Tags: history, jfk, war, homosexuality, gay, lesbian, college days