19 June 2011
I went to the Imperial Theatre near the imperial palace to view the stage show of "Gone with the Wind." As you know this is based on America's most famous novel written by Margaret Mitchel. It was written and made into film in 1930's.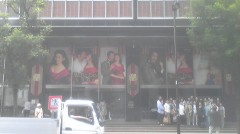 I've seen the film version many times and read some parts of the original novel. The stage show was 2 hours and half long. It was like summarized fairly tale version of the novel and film. It is surprising to know such show was played by Japanese actors. It is like Americans playing Samurai and Geisha.
Overall the show was well-done. I do not have to compare that with the film version or original novel. Stage version has its own flavour. This story has good essence of making good story telling. Like contrast of characters, contrast of situations. Good transition and developments so that viewers can easily follow.
However, I do not enjoy the story as much as before.
The story is in fact, unrealistic in the following points.
1. Egoistic and moody girl like Scarlett could attract so many men.
2. Such spoiled girl growing up in a wealthy family could take care of giving birth of a child and live through turmoil after the war.
3. Such young lady fell in love with much older guy like Rhett.
Furthermore this story has been criticized for romanticizing the slavery time in the South.
Afro-American people were portrayed as loyal slaves reveling with their oppressors. In the original novel the word "nigger" was repeatedly used. There was an event that Scarlett was assaulted by a Afro-American robbery and her second husband, Frank Kennedy took a revenge of that being Koo Klax Kuran.
Indeed the story was written from the viewpoint of conservative white people in the South. Slavery shouldn't be romanticized.
I am recently interested in an actress, Hattie McDaniel in the film version who won Academy Supporting role award. The film was clean-up version compared to the novel. Not using the word "nigger," Scarlett being assaulted by white man instead of Afro-American. Scarlett's Mammy played by McDaniel did played a very important and active role in the film.
I guess it was because the producer Selznick was Jewish and sharing some oppression experience with her. The film was made in 1930's when Nazi-Germany arose in Europe.
McDaniel made a speech that she was glad to receive the award on behalf of Afro-Americans. She did the great job in that sense although she had to play a sterotype role.
I guess it would be more interesting to make a film of how she lived and how she acted in the fim during that time. Such thing should be focused.
On the Stage version I saw slave role actors put black paint on their skin to look like Afro-American. Scarlett screamed at a slave "Kuronbo (meaning Nigger)." Scarlett was assaulted by Afro-American robbery. These are wrong things, aren't they.
19 March 2011
Dear Everyone in the world,
I just have to apologize to you as a Japanese citizen for causing such trouble.
As you know, our island was hit by historically big earthquake (Magnitude 9.0) and big tsunami swept away so many coastal towns. Tens of thousands of people died. These were natural disastors.
But next thing happened was not just natural cause. The earthquake and tsunami hit three nuke power plants in the disastor area. Two of the three were deactivated safely but one of them, Fukushima Nuke Power Plant was severely hit by the earthquake and tsunami. Japanese nuke power plants are said to be designed to resist any kind of earthquake but what was unexpected was a big tsunami.
The tsunami swept away diesel turbins which cool down nuclear reactors. Now those reactors are still self-heated because of lack of water. Water pump cannot work without generation. The heat caused hydrogen which led explosion within reactor building and then blew the roof away. Reactors themselves are still safe but it is very difficult to predict what will happen next.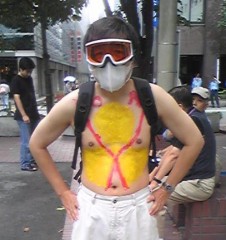 I've been against nuclear power generation. Not just because of risk of such accident but hazardous and difficult-to-manage nuclear wastes after generation. I support renewable energey such as solar power and wind power as substitute for nuclear, oil or big dam.
Now this happened. Radiation has been leaked. I am in Tokyo, where 200 kilometers away from Fukushima nuke power plant. Radiation came with wind. People are afraid. Foreigners are escaping from Japan. Some of foreign nations embassies are relocated to some other places.
As for citizens' life, there is a big change. Because of shortage of electricity, Less commute trains run. Neon and lights are turned off. The city became darker than before. In shops and supermarket food and daily commodities are sold out because people are in panic. I am in panic, too.
Suddenly I have to live extra-ordinary life. The days I enjoy watching films, skiing, and writing blog are all gone. I don't know when I can come back to such normal life.
This may be last message to you if the worst scenario happens afterwards.
22 November 2010
Today I joined my new job training. I just witnessed how ordinary people have become Xenophobic these days in Japan.
Maybe it is because Japan has been in big recession and Chinese ship intruded Japanese territorital sea which caused diplomatic turmoil just recently.
In office, one worker talked about what he witnessed on the platform in the station when Chinese person yelled to a police officer. He said "it was like moster attack." Then his colleagues followed that saying "That is very Chinese personality. That is how they deal with us. See how they bumped to Coast Guard Ship."
My trainer said to me "Be careful these days our customers have become like stupid Americans who always want to sue us."
Japanese are islanders so we generally act like this but these days people have become more aggressive than before. I do not like this tendency.
04 January 2010
On 2nd of January, 2010, I went to the imperial palace to see annual new year greeting by the Emperor Akihito and his family members.
That was the day usually closed area of the palace becomes open to public. People with Rising Sun flags entered the palace and saw the emperor on the palace balcony covered by glass from the ground. He said "I am glad to have new year with all of you."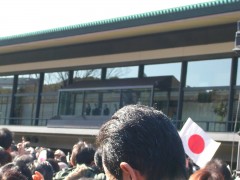 I am usually asked what the emperor means to us. Well, the answer is nothing. We are told that the emperor is symbol of the State.
But generally, he is far away from us. We know he does exist but we are not interested in him and his family.
I do think I have to appreciate his existence because the emperor functions great deal of our society.
Some claims the imperial system suceeded by bloodline should be abolished but I disagree. The system benefits our nation.
Under the emperor, we are all unified as Japanese. That's a good thing.
The emperor works as great diplomatic tool when it comes to dealing with big nations like China and the U.S.
Last month the emperor met with China's No.2 politician regardless earlier appointment than usual.
That gave a signal to the U.S. that Japan is placing more importance on China than ever.
The U.S. and Japan have a quarrel recently. China has now become a big card for us.
Anyway, I am glad we have such a great imperial system. Imperial system is a tradition of over 1000 years.
A Happy New Year with the Emperor!