29 September 2014
I could never understand why a girl like her has become so popular internationally.
Her name is Kyary Pamyu Pamyu.
She is like Lady Gaga of Japan. Her sales points are very unique custumes.
But her singing is not music, just high tone voices.
Last Sunday I went to Tokyo Metropolitan Gymnasium. There was a festival of concerts, fashion shows and exhibitions. Those were awesome but the biggest event was her concert in the final session.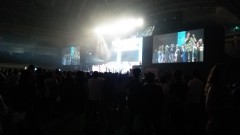 What surprised me was there were many audience from abroad including Europeans. Some wore custumes like she wore.
Can they understand and enjoy her singing?
It seems they did.
I can never follow what they are doing.
What is going on in this world? I felt like Alice in the wonderland.
30 January 2014
Last week I went to Hakuba Happo Ski Resort in Nagano Prefecture.
Surprisingly beautiful place to be because it was really clear day. Views from mountains were spectacular.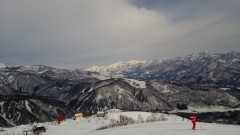 On top was like lunar surface.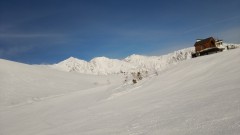 The courses are great.
One more surprising thing was that there were many foreign skiers or snowboarders. At least one out of 10 people skiing or snowboarding were foreigners, mostly from Australia.
I spoke with one Australian woman about why she chose to come to Hakuba. She said the place is better than Australia in terms of skiing or snowboarding because Australian snow are not good quality and snow leisure are more expensive. Since the season is opposite over there, people want to get away from summer heat, so snow leisure in Japan are very popular. There are repeaters of Hakuba visits. She said locals in Hakuba were so friendly and she and her family enjoyed spending vacation there.
I met many Australian skiers in Niseko, Hokkaido 3 years ago. Niseko is 2 hour flight from Tokyo. It is great in terms of snow quality, better than any other places in Japan or even the world. That is why I could meet skiers from Sweden in Niseko. Recently US Ambassador, Caroline B. Kennedy skied there.
Hakuba and Niseko both have other great tourism resource, Natural Hot Spring, Onsen. I bathed in hot spring bathes over there and of course met foreigners naked in bath tubs. Warming your body by natural heat water from volcano after skiing in the cold weather is one great feature of Japan's skiing.
But it seems Hakuba or some other ski resorts are better in the sense that the resort is closer to Tokyo, biggest tourist spot in Japan.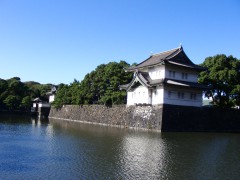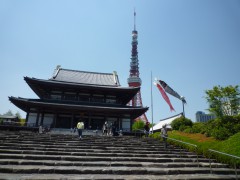 I heard some Australian tourists spend several days in Tokyo for sight-seeing and then got on the train to Hakuba. It took about 2-3 hours by train. Some use Japan's state of art express train, Bullet Train (Shinkansen).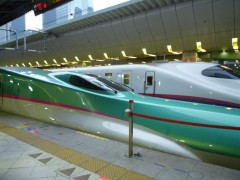 After they got to Hakuba, they spend a few days skiing and then took a bus to Narita International Airport to go back to their homeland. There is a direct bus line from the local bus station.
Wow, Japan has great tourism resources. Cool Japan!
If only no nuke accident like Fukushima happened 3 years ago, I can clearly state that. But I am so glad that so many foreign tourists stay in Japan even after such horrible accident that polluted all over the world occurred.
Japan should welcome them heart-warmingly. So we have keep healthy relationship with foreign nations. We must abandon nuclear power plants that jeapordize our nation and our planet.
For Australian we have to halt whaling in Antarctic Sea. No necessity for eating whale meat sailing so far away. Whaling in Antarctic Sea was never our tradition, only coastal fishery villages in a small scale.
I hope our people can improve ourselves by being aware of foreigners eyes. Knowing how other people see us lets us know ourselves better. We can view ourselves objectively. We should be grateful to foreigners.
By the way, I will come back to Hakuba soon.
I just come up with a good novel idea that can be a good travel course. The title is like "Hakuba International Lodge." I actually saw the sign of lodge over there. Skiers and snow boarders from all over the world joined the lodge and spend wonderful time and share meaninful experiences. Not just skiing or snowboarding, sight-seeing to Tokyo or Kyoto and naked bathing in natural hot spring (sometimes, co-ed style) and learn tea ceremony, zen mediation, etc.
Don't you want to try?
03 January 2014
Year of 2014 started.
On one of new year's days I was invited to the dinner at Tokyo's most expensive French cuisine restaurant, LA TOUR D'ARGENT. It is located in The Hotel New Otani Tokyo, one of Japan's high class hotel chain.
The below photo is me in kimono at the waiting room of the restaurant. Only waiting room is as big as one ordinary restaurant. I was allowed to take a photo of me within waiting room area.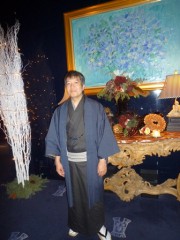 As you see the interior is georgeous. The dining room was georgeous as well. Mirror ceiling and chandeliers, candles. Tens of garsons in black uniform walking around to serve the same number of tables. That reminds me of the film "The Great Gatsby."
I had champagne, wine, and full course of very delicous meals. The speciality of the course was roast canard. Each guest was given a card of canard (duckling) he/she eats with its number.
A sommelier selected a wine that fits the course menu. He said one of most expensive wine the restaurant has is Romane Conti, which one bottle costs 2500000 yen, 25 thousands US $ or Euro. Of course it was not what our group could afford. So I chose half bottle of wine which costed around 19000 yen.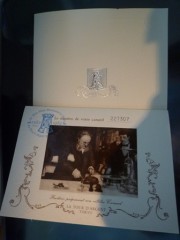 I really enjoyed that. But at the same time I had to feel guilty about it. The dinner cost a lot. That one dinner can equal a few people's monthly food expense. In the world half of the population are starving. This luxurious dinner should cost equivalentl to annual income of some portion of the people in this world.
Moreover, the bottle of Romane Conti costs construction of a school that hundreds of children can attend in third world nations.
Not just in third world but even in first world like Japan or America, such dinner is far exceeds the living standard of ordinary people. Last year I went to Okinawa. I visited the US Marine facilities. At the entrance of US Marine training camp, I saw the below sign that says "Hard training makes hard marine."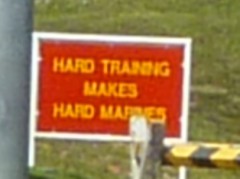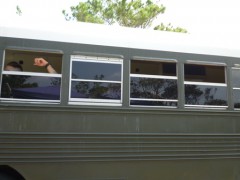 I saw the bus of trainees entering the gate. I heard those young people come from very poor family that could not afford college education for their children so they had no choice but to join the marine, what is called, Poverty Draft.
Meanwhile, very rich people like who can afford very expensive dinner like LA TOUR D'ARGENT exploits such young people to grow their wealth provoking wars all over the world. Kind of plutonomy. That is the social structure of today's world. I wrote a novel on this theme.
The bus transporting capitalism slaves to the military base reminds of one very historical place in Poland which I visited 6 years ago. The similar sign was posted at the gate of the facility.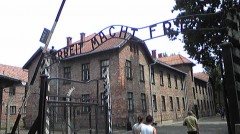 ARBEIT MACHT FREI. (Labour makes you free.)
18:55 Posted in Culture, France, Politics, Society, Tokyo Life, USA issues | Permalink | Comments (0) | Tags: military, poverty, class gap, economy, kimono, okinawa
01 December 2013
I went to one Art drawing workshop. The art of drawing naked human body. I have been to several of such workshop. I drew naked men or women posing on sketchbook.
This time was something different. I, myself became a naked model. I took off all the clothes and stood naked in front of more than 10 people including 3 women.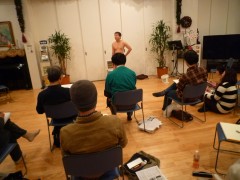 The reason I did that is I should be the one to be drawn to learn better about how to draw others. One should be the object of what he/she draws to know how to draw better. Vice-versa experience or role-reverse game.
It was a very meaningful experience. At first I was embarrassed and nervous but after a while I get used to be looked at. I stood still for 15 minutes and another 15 minutes I sat down on the chair still. I did not even move my head during those times. I felt double length of the time. 2 scenes of naked figure of me was drawn by artists around me. How did they view me?
The result was as follows. I picked 2 drawings as my favourite among more than 10 works. The above is picture I think most beautiful although it did not look like a real figure of me. The other is picture, I think closest image I have about myself.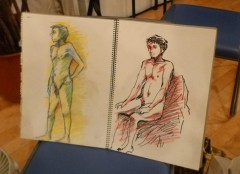 It was a really great experience that I want to share with other people. You learn how others view yourself and find yourself objectively.
However, I will never do that again. Once is good enough.