03 January 2014
Year of 2014 started.
On one of new year's days I was invited to the dinner at Tokyo's most expensive French cuisine restaurant, LA TOUR D'ARGENT. It is located in The Hotel New Otani Tokyo, one of Japan's high class hotel chain.
The below photo is me in kimono at the waiting room of the restaurant. Only waiting room is as big as one ordinary restaurant. I was allowed to take a photo of me within waiting room area.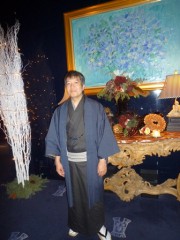 As you see the interior is georgeous. The dining room was georgeous as well. Mirror ceiling and chandeliers, candles. Tens of garsons in black uniform walking around to serve the same number of tables. That reminds me of the film "The Great Gatsby."
I had champagne, wine, and full course of very delicous meals. The speciality of the course was roast canard. Each guest was given a card of canard (duckling) he/she eats with its number.
A sommelier selected a wine that fits the course menu. He said one of most expensive wine the restaurant has is Romane Conti, which one bottle costs 2500000 yen, 25 thousands US $ or Euro. Of course it was not what our group could afford. So I chose half bottle of wine which costed around 19000 yen.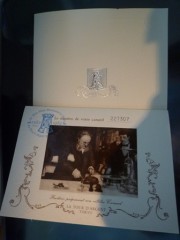 I really enjoyed that. But at the same time I had to feel guilty about it. The dinner cost a lot. That one dinner can equal a few people's monthly food expense. In the world half of the population are starving. This luxurious dinner should cost equivalentl to annual income of some portion of the people in this world.
Moreover, the bottle of Romane Conti costs construction of a school that hundreds of children can attend in third world nations.
Not just in third world but even in first world like Japan or America, such dinner is far exceeds the living standard of ordinary people. Last year I went to Okinawa. I visited the US Marine facilities. At the entrance of US Marine training camp, I saw the below sign that says "Hard training makes hard marine."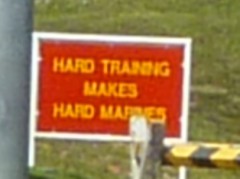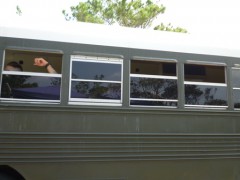 I saw the bus of trainees entering the gate. I heard those young people come from very poor family that could not afford college education for their children so they had no choice but to join the marine, what is called, Poverty Draft.
Meanwhile, very rich people like who can afford very expensive dinner like LA TOUR D'ARGENT exploits such young people to grow their wealth provoking wars all over the world. Kind of plutonomy. That is the social structure of today's world. I wrote a novel on this theme.
The bus transporting capitalism slaves to the military base reminds of one very historical place in Poland which I visited 6 years ago. The similar sign was posted at the gate of the facility.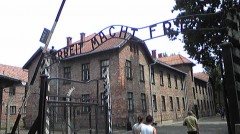 ARBEIT MACHT FREI. (Labour makes you free.)
18:55 Posted in Culture, France, Politics, Society, Tokyo Life, USA issues | Permalink | Comments (0) | Tags: military, poverty, class gap, economy, kimono, okinawa
01 December 2013
I went to one Art drawing workshop. The art of drawing naked human body. I have been to several of such workshop. I drew naked men or women posing on sketchbook.
This time was something different. I, myself became a naked model. I took off all the clothes and stood naked in front of more than 10 people including 3 women.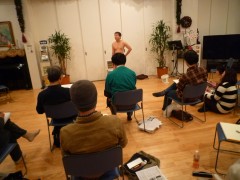 The reason I did that is I should be the one to be drawn to learn better about how to draw others. One should be the object of what he/she draws to know how to draw better. Vice-versa experience or role-reverse game.
It was a very meaningful experience. At first I was embarrassed and nervous but after a while I get used to be looked at. I stood still for 15 minutes and another 15 minutes I sat down on the chair still. I did not even move my head during those times. I felt double length of the time. 2 scenes of naked figure of me was drawn by artists around me. How did they view me?
The result was as follows. I picked 2 drawings as my favourite among more than 10 works. The above is picture I think most beautiful although it did not look like a real figure of me. The other is picture, I think closest image I have about myself.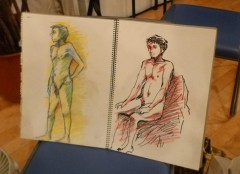 It was a really great experience that I want to share with other people. You learn how others view yourself and find yourself objectively.
However, I will never do that again. Once is good enough.
10 September 2013
IOC announced Tokyo will host 2020 summer olympic. This will be second time Tokyo was awarded as host city. First time was 1964.
Many people celebrated this announcement. However, I cannot fully celebrate. I think it was good news but there are some problems related to this event.
Biggest criticism of Tokyo's hosting is that crippled Fukushima Daiichi nuclear plants are still leaking contaminated water and no way to stop this is determined. Prime Minister Abe said contaminated water is perfectly blocked within fenced area. That was a lie. It is going beyond that area.
Many people should be worried that if visitors to Tokyo olympic including greate athletes are to be affected by radioactives. Nobody knows what is happening here 7 years later. That means that Japan must deal with this problem very fiercely since the world is watching carefully. We need to solve Fukushima issue very seriously rather than celebrating.
The other thing I do not like is that olympic games have become too commercial. The reason that Tokyo was chosen is that Tokyo has so much money. IOC hopes to get big sponsors' money.
In the old days like Japan hosted first olympic game in 1964, the opening day was October 10 to avoid heat of summer, now it is scheduled to open in July, hottest time of a year. I do not think it is appropriate time for athletes to mark good records. It is to get more viewers in summer than autumn.
Personally as I get older, I cannot enjoy sports events like younger days because I learn athletes are not heroes rather they are livestocks of states or corporations. Or they, themselves are just fake entertainers. Real entertainers are better to me because their job is to act to entertain audience, wheras athletes are supposed to play seriously and fairly which is usually opposite to reality.
Sports games shouldn't be business or too much spotlighted. Sports are just for health improvement and leisure. The only business athletes should make money of is to be a trainer or instructor of sports for players, who are doing this for health and leisure, not for glory, fame and money. No athletes shouldn't be too serious to get steroids in their bodies. Sports are not worth it.
In fact, for Tokyo and Japan olympic games are not as significant as we hosted first time in 1964 when Japan was aiming to be advanced nation after the defeat of war. Japan has become advanced and rich nation already. Japan hosted olympic 3 times before and the World Cup soccer games in 2002. Not very surprising. It was more like one of big international events. So what? Will this event boost economy? Not likely. After the game is over, business as usual, only that time like what happened after other olympic games. Just small portion of business people in very short period.
I do not care about what is happening in my city 7 years later. I may be moving somewhere else to escape from all the fuss.
03 July 2013
Did you know there are male Geishas in Japan? Geisha usually means female escorts in kimono. But there is male version of it.
Men in kimono entertain guests in the tea houses or Japanese style restaurants.
They are called "Taikomochi" or "Hokan" in Japanese.
Last month I went to the lunch show of a male Geisha in Kagurazaka district in Tokyo. The Geisha name is Yugenteitamahachi.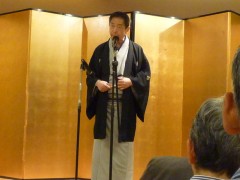 He is one of very few male Geishas remained in Japan. In the old days like in middle of 20th century there were more than 400 of them. As time passes by, not many people do not enjoy Geisha shows in Japanese style room. He said that as entertaiment is diversed, people can have more choice for entertainment, not just Geisha play.
Male Geisha do not play the same role as Geisha girls. They are not sexy, they are rather funny characters, like comedians. They coordinate between male guests and Geisha girls. So the guests can know who can be best girls for them. They know how to chat with guests, including man to man vulgar chatting. They are very considerate, avoiding politics and religions as topics.
But they can do performances as singing, playing shamisen guitar, mimicing celebrities, and dancing.


The show was not as impressive as Geisha girls' show I enjoyed a few months ago. But it was good that I could learn one form of Japan's tradition. Sorry to know that this is an endangered occupation.