01 April 2007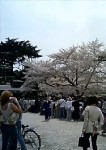 The above photo was taken this afternoon. Many people are making line to buy a ticket to enter the Shinjuku Garden. One of the famous "Cherry blossoms to see" spots in Tokyo. This is also one of the imperial gardens and well maintained. The admission fee is 200 yen. Around 1.5 US$.
I wanted to enter but there were too many people trying to enter. I just gave up. Then I left there.
Last year I remember I could enter without waiting and enjoyed cherry blossoms in the park. You can see the photos taken in the album.
31 January 2007
I got acquinted with her on internet.
She was a Geisha in Kyoto before she moved to Tokyo to be a club hostess in Ginza (place like Fifth Ave. in New York).
This is her blog site. She left comments on my post in my Japanese blog.
Our interaction started when the movie "Memoirs of a Geisha" was released.
I read her posts every day. As you can see the photos in her blog, she is beautiful.
Geisha literally means "Artist." Yes, she is artist.
Since my other love affair is finished even before trying, I want to start new one with her.
02 April 2006
This is the season I can think the scenaries of our country are better than any other country in the world.
Streets and parks in the city are decorated with pinky-white cherry blossom trees. Please see the photo album. I have more pictures of cherry blossoms in the city.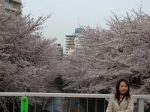 24 July 2005
Today is Sunday.
Some of the main streets in Tokyo are open to pedestrians.
It is fun to walk on the road where normally only cars are passing by.
It is also fun to see a performer on the street like below. He was singing a folksong. Not very good though.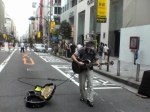 But sorry, what he is doing is illegal. See the below picture.