03 February 2008
I am showing you some great photos of Tokyo's snowing views.
I took some photos and video clips in Tokyo's most famous park "Shinjuku Gyoen (Shinjuku Garden)."
Heavy snow covered big turf field.
It was very cold but very amazing views.
The below photo is Chinese house in the park.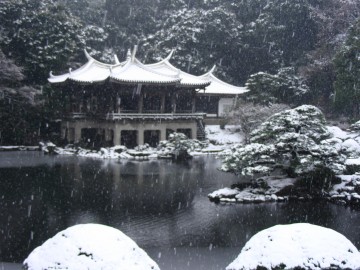 Next is Japanese garden and the skyscraper.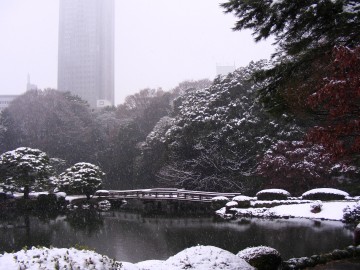 You can see the video clips on You Tube site, Tokyo Heavy Snowing. The first scene is the view of the city from balcony on the 11th floor of the building.
Compare with Tokyo's most beautiful Park, which is normal view of the park.
22 June 2007
I have been living in Tokyo, Japan's capital, world's biggest urban area, for more than 7 years.
I feel like I was born and grew up here. Actually I was not born and did not grow up in Tokyo.
Where I was born and grew up was a devastated city, where no culture exists. I hate my hometown.
I used to live in some other cities. One of them is San Francisco. I went to the university there.
It was a pretty city but small and not so exciting.
Tokyo is much bigger. There are some advantages of living in Tokyo, which I like to mention.
1. Very big, varous towns, beautiful places, facilities, and exciting events in one city. You never get bored. If you are alone and bored, you can easily find some places to go to have fun even if you don't have so much money. Just walking on the street is fun.
2. For me, English speaking person, there are a lot of opportunities. Tokyo always needs English speaking workers like me because it has many, many international firms.
3. Very, very sophisticated people, such as journalists, artists, and other intellectuals. I could come to a concert of big artist like Billy Joel. As you know, this is capital of Japan, you can meet influential politicians, too.
4. Many, many foreigners, every day, actually every hour I can easily pass by foreigners. I can encounter different cultures. As I recall, I've met or worked with Koreans, Chinese, Thais, Indians, Brazilians, Russians, Turkeys, Iraqi, Arabs, French, Canadians, Britons, and of course Americans. Some are good but some are not. But I like them.
I love Tokyo. I've decided to live here for the rest of my life. I will die here.
Come visit Tokyo! You can meet wonderful people and see beautiful places.
01 April 2007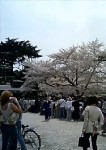 The above photo was taken this afternoon. Many people are making line to buy a ticket to enter the Shinjuku Garden. One of the famous "Cherry blossoms to see" spots in Tokyo. This is also one of the imperial gardens and well maintained. The admission fee is 200 yen. Around 1.5 US$.
I wanted to enter but there were too many people trying to enter. I just gave up. Then I left there.
Last year I remember I could enter without waiting and enjoyed cherry blossoms in the park. You can see the photos taken in the album.
31 January 2007
I got acquinted with her on internet.
She was a Geisha in Kyoto before she moved to Tokyo to be a club hostess in Ginza (place like Fifth Ave. in New York).
This is her blog site. She left comments on my post in my Japanese blog.
Our interaction started when the movie "Memoirs of a Geisha" was released.
I read her posts every day. As you can see the photos in her blog, she is beautiful.
Geisha literally means "Artist." Yes, she is artist.
Since my other love affair is finished even before trying, I want to start new one with her.