22 November 2010
Today I joined my new job training. I just witnessed how ordinary people have become Xenophobic these days in Japan.
Maybe it is because Japan has been in big recession and Chinese ship intruded Japanese territorital sea which caused diplomatic turmoil just recently.
In office, one worker talked about what he witnessed on the platform in the station when Chinese person yelled to a police officer. He said "it was like moster attack." Then his colleagues followed that saying "That is very Chinese personality. That is how they deal with us. See how they bumped to Coast Guard Ship."
My trainer said to me "Be careful these days our customers have become like stupid Americans who always want to sue us."
Japanese are islanders so we generally act like this but these days people have become more aggressive than before. I do not like this tendency.
04 January 2010
On 2nd of January, 2010, I went to the imperial palace to see annual new year greeting by the Emperor Akihito and his family members.
That was the day usually closed area of the palace becomes open to public. People with Rising Sun flags entered the palace and saw the emperor on the palace balcony covered by glass from the ground. He said "I am glad to have new year with all of you."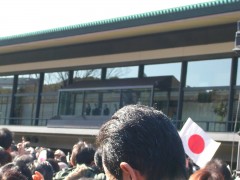 I am usually asked what the emperor means to us. Well, the answer is nothing. We are told that the emperor is symbol of the State.
But generally, he is far away from us. We know he does exist but we are not interested in him and his family.
I do think I have to appreciate his existence because the emperor functions great deal of our society.
Some claims the imperial system suceeded by bloodline should be abolished but I disagree. The system benefits our nation.
Under the emperor, we are all unified as Japanese. That's a good thing.
The emperor works as great diplomatic tool when it comes to dealing with big nations like China and the U.S.
Last month the emperor met with China's No.2 politician regardless earlier appointment than usual.
That gave a signal to the U.S. that Japan is placing more importance on China than ever.
The U.S. and Japan have a quarrel recently. China has now become a big card for us.
Anyway, I am glad we have such a great imperial system. Imperial system is a tradition of over 1000 years.
A Happy New Year with the Emperor!
13 June 2009
Today, I have become a guide for free walking tour guide for Imperial Palace in Tokyo.
Though I am not a professional guide but I speak English so I joined the volunteer activity.
It was nice. Today I and other two guides started the tour from Tokyo Station.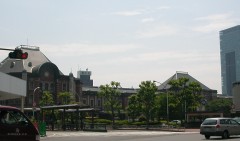 There were 10 people gathered at the exit. They were from Canada, Australia, Sweden and North Carolina (U.S.A).
After explaining to them history and current renovation plan of Tokyo Station, we took them to Tokyo's most famous tourist spot, Imperial Palace.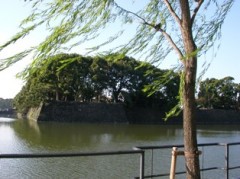 We explained to them how the castle was protected from invaders, such as surrounding mort, Stone Walls, Trap gate, and checkpoints.
We talked about middle age to modern time history of Japan as to how the country was developed into a unified nation.
It was sunny and hot day. They really seemed to enjoy the tour.
If you are living in Tokyo or have a chance to visit here, why don't you join the tour.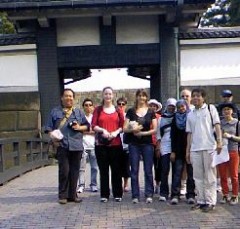 The tour is held every Saturday afternoon at 1PM. Gather at the Marunouchi central exit of Tokyo Station.
Straight-ahead is Imperial Palace.
See you there!!
10 April 2009
Not high-season any more, but you can do that on Shiga Highland, Nagano Prefecture, 2 hours and half train ride and 1 hour and half bus ride from Tokyo.
It was for me first time in 14 years. Last time was 1995 in Brockenridge, Colorado in that year's January and Zelmatt, Switzerland in August.
That was really fun. Acutually this time was first time I skied in Japan.
Skiing has changed since then. Snowboarding became more popular and new type of ski boards, curving skiing which is shorter and round shape are now commonly used. I used this new type of skiing equipment.
The photo is what I took from the top of the slope. The highland was very beautiful.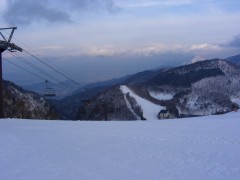 The town was also famous for hot springs. I bathed very good hot spring. The big bath room had big glass window that I could enjoy spectacular view of highland's snow mountain. That was awesome experience.
Skiing is not as popular as it used to be. It was very popular at the time of big economy boom between late 1980's and early 1990's.
The boom in the past was caused by the popular movie "Watashiwo-Ski-ni-Tsuretette (Take me out to Snow Land)."
I was impressed by the movie and decided to join the ski tour. Not only the skiing scenes were great but youngsters' life in the film was nice.
At that time youngsters could afford a nice sporty car to drive to ski slopes from a city on vacation and rent a lodge holding parties.
Now youngsters are struggling with their working-poor conditions. I skied and envied the life of ski boom period.
The below is You Tube clip of the Ski Slope I videotaped. Ski slope was really empty and I never had to worry about bumping to other skiers.