04 March 2014
Not homosexual, homosocial! I joined naked men in thong festival in Hobara town, Date-city, Fukushima Prefecture.
You may feel familiar with Fukushima. Yes, that is in the same prefecture in which that severe nuclear accident occurred after the earthquake and tsunami hit the nuclear plants 3 years ago. Hobara is 50 kilometers away from the Fukushima Daiichi Nuclear Power Plants.
On 2nd of March, I traveled to Fukushima from Tokyo. I brought my gaiger counter (radiation level measure). This was my 5th trip to Fukushima since that disaster. My purpose this time was my third time participation in the festival as naked man in thong walking and running on the street. Other 2 times I joined radiation clean-up mission of the town.
What my gaiger counter indiated at the Tokyo Railway and Fukushima Station were very similar.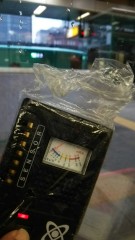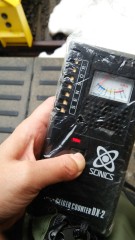 3 years ago, it was different. The below is what I took in Hobara Station July 2011, 4 months after the accident.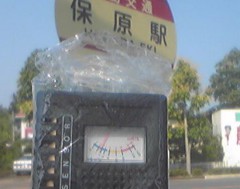 As you see, the counter needle went more right. It was over 0.1 Rem. More than 10 times of normal level.
However, it went down but still radiation level is higher than normal.
On that day I went to the gathering place near the Itsukushima Shrine in Hobara town to put on thong.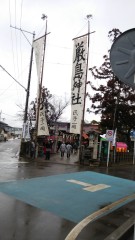 Over there around 70 men gathered to prepare for the participation. All guys became naked and bathed in hot water tub and after that they got themselves in thongs by local festival staff. Naked guys waiting in a room holding thongs in their hands. Talking about their bodies. Someone joked about that. (See the photos on this Japanese site which were taken 3 years ago) The thong contains cup to hold guys' private thing. After it was tightened by the staff, it was like being chained on your ass to hips. Kind of extra-ordinary feeling.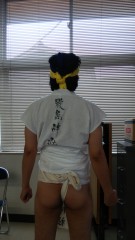 It is called, Fundoshi or Mawashi in Japanese. Sumo wrestler wear that. In the old days, it was maily used as underwear or swimwear for all the men in Japan.
The festival is named, Tsutsuko-hiki Festival. It literally means pulling the Tsutsuko, divine rice in a big straw bag which weighs 800 kg. To wish for rich harvest and health of the localies. By pulling the bag from all the direction the rice turns out to be soft and sweet rice cake. If you eat that, you can stay healthy all year around.
I learned about this festival when I joined the radiation clean-up mission. Then I decided to join the festival every year to wish for betterment of the town's environment. Only God can change things better, I guess.
After dress-up of the thong guys had to wait for the main event for 1 to 2 hours. Until then other things such as performances or children sports event went on outside.
During that waiting period, guys chatted each other drinking sake (Japanese alchohol beverage) and eating foods in a small room. It is the very men's world. Talking about life, sex and etc. I hesitated to talk about nuclear things because it was too serious for the localies.
Guys were mostly from Fukushima. One young man was from Australia. He said that he now lives in Iwaki-city in Fukushima as translator. He said that he enjoyed wearing Fundoshi. That amazed me. Only one caucasion young man among 70 Japanese men. It was like the short novel I wrote on this blog. A foreign guy experiences very traditional thing which modern Japense do not any longer.
After an hour long talk, I found myself very drank. The main event started and I ran with other guys to the shrine. Guys transported Tsutsuko on the carrier shouting "Wasshoi." After transporting it on main streets of the town, we placed that on the road. Then we, guys pull and bang that on the road shouting.
Later we transported that back to the shrine and the Tsutsuko bag was cut to open. Rice cake in it was divided and handed to participants and gallery. I enjoyed this festival last year and two years ago. However, this time I got too drank to remember what exactly I did.
I just hope things are getting better in Fukushima, Japan and the whole world.
16 February 2014
Surprising thing happened in Okinawa. US Ambassador to Japan met with mayor of Nago city and visited the controversial construction site for new US Marine base.
Maybe because she responded to the below editorials of local newspapers.
EDITORIAL [Dear Madame Ambassador Kennedy] Please Meet with Mayor Inamine
[Editorial]Dear US ambassador to Japan Caroline Kennedy: We want the US government to change its Futenma replacement policy and cancel Henoko landfill
However, I wrote the letter to her. That might have worked as well, I guess.
The below is what I wrote to her early this month and is a progressed version of a letter I wrote to her last November.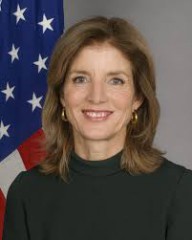 February 3, 2014
My name is Masagata, a Japanese man living in Tokyo. I used to study at San Francisco State University, where I majored in International Relations. I am now working as a translator using the English knowledge I acquired in the US.
I am writing this letter to tell you about a matter that is very important to both of our nations. I am sure that you are well aware of many issues between the two nations. I would like to mention the most important of these: a matter that might result in long-term deterioration of the current healthy relationship between the two nations. I urge your government to rethink its ways of dealing with this issue.
The matter in question is the relocation of the US Marine Base from Futenma in Ginowan City, Okinawa Prefecture, Japan's southernmost tropical islands, which are a little like Hawaii. In 1996 both the American and Japanese governments agreed to relocate Futenma base to Camp Schwab to get away from the densely populated area around Futenma. Camp Schwab is on the coastline of the island, in an area called Henoko.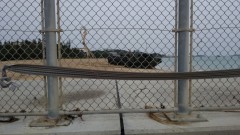 There has been a local resistance movement since the relocation plan was announced. Locals near Camp Schwab are concerned about the deterioration of their living environment. Many environmental activists also oppose the plan because of the abundance of forms of wildlife that are unique to the area around Camp Schwab.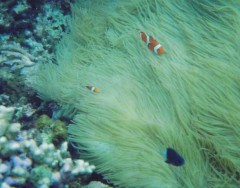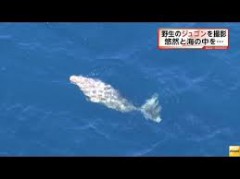 I took the photo of one of the above when scuba diving in the nearby sea. It shows clown fish swimming above the coral reef like in the film "Finding Nemo". The other photo is of a dugong, an endangered marine mammal that eats grasses in the sea. I enclosed purple paper craft of dugong made by locals.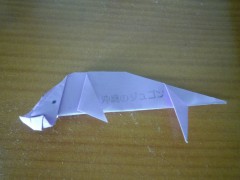 It is just ridiculous that the nation that protests Japan's whaling in the Antarctic Sea – and even dolphin hunting in Taiji, Wakayama Prefecture – is helping to threaten another marine mammals that live in Japan.
On November 22nd, 2013, in Nago City (to which Camp Schwab is attached), the city council made a resolution demanding the Okinawa Governor not to permit landfilling of the sea. However, the governor permitted the landfill in December even though a majority of Okinawans disapproved his decision.
The following month, in January, Okinawa Prefectural Council made a resolution demanding the Governor's resignation. Okinawan protest activists announced legal action against the prefectural government in order to cancel the permit. Later, on January 19th, the mayor of Nago City, INAMINE Susumi, was re-elected because of public support for his policy of the city's refusing corporation with central and US governments regarding construction of the new base project.
If the project is implemented as planned, the sea will be reclaimed and dugongs and other creatures' lives would be threatened. Dugongs' sea grass is found in the reclaiming area. They will lose their feeding place. Then what will happen is that your nation will be accused of helping to diminish such wonderful and rare creatures for the interests of the few. The few, you might know, are certain businesses and government people who want some gains from the project. Actually, the Japanese Ministry of Defense carried out an environmental assessment in which it was claimed that there are no dugongs in the sea. But the environmental organizations such as WWF and The Nature Conservation Society of Japan claim that the MoD's assessment was wrong and the organizations' own research found clear traces confirming the existence of dugongs. Recently, Okinawa's local newspaper revealed the news that the MoD was aware of the finding but had covered it up.
You might say this is something to be handled by the Japanese government, and that it is not the responsibility of the US military. But that sounds very hypocritical. The US military is the one that uses the facility. The US government can cancel that project and find another relocation site outside Okinawa. If the US continues to attribute this to the Japanese government, it is just like what Japanese conservative politicians say when it comes to the "Comfort Women" issue: "The Japanese Imperial Army was not responsible for kidnapping women in Asia during the war period in the early 20th century, it was what outsourced local brothels did."
There may be casualties and incidents resulting in bloodshed during protest activity against construction. Such news will be broadcast all over Japan. The construction will take several years to complete. Resentment will continue to build. Your military and diplomats will have to deal with such problems for a very long time.
In fact, the US military presence in Okinawa and even nationwide is becoming nothing but troublesome. More of us know that the US military presence no longer functions as defense or deterrence like in the Cold War era. China is said to be a new threat but we know that US-China relations have become more vital for your nation since China owns more US treasury bonds and buys more US goods than Japan does. China has become a larger economy than Japan these days. President Obama spends more time having dialogues with Chinese leaders than with the Japanese Prime Minister.
Plus, US needs China for negotiation with North Korea in terms of nuclear missile issue.
Recent incidents indicate US reluctance to defend Japan from China. In 2010 a Chinese fishing ship collided with Japan's coast guard ship in the sea near the Senkaku Islands, a disputed territory between Japan and China. The captain of the ship was arrested by the coast guard. The US Secretary of State said it would have no involvement in this matter and the captain was later released. Last year China announced expansion of its Air Defense Identification Zone to the Okinawa area. Japan objected to it and demanded China to cancel the expansion, but the US did not follow what Japan did to China but requested US private airliners to submit flight plans in that zone to the Chinese authorities, precisely opposite to the Japanese stance.
We can easily predict that the US would not help Japan even if China and Japan became involved in a dispute for some reason such as the territorial right to the Senkaku islands. The US cannot send troops to assist Japan fighting against the Chinese military because such action might cause great losses for your national interests. China has many ways to sanction your nation.
Military experts say that the biggest reason that the US military forces stay in Japan is to cut cost of their own because Japan provides host nation support fund, which we call "Sympathy Budget" that accounts for more than 70% of total expense for the US bases in Japan. There are more than 130 facilities of US military in Japan. Most of the troops are stationed in Okinawa prefecture that accounts for less than 1 % of total of Japan's territory. Okinawa has been occupied until 1972, which is 20 years after mainland Japan regained sovereignty and was the only place that experienced ground battles within Japan, causing 200,000 civilian casualties during WW II.
Deploying your military so much in our country, especially Okinawa is just causing growing distrust against your country. I believe the Okinawa issue presents the perfect timing for your nation to rethink its military deployment in Japan in order to improve the relationship between the two nations. Constructing a base on reclaimed land in the Henoko sea is the worst possible idea.
US military presence functions to apply American influence on our nation. Yes, it did work that way but you really have to know this may be working negatively. The image of your country itself is no longer positive like in the past. In other words, the US is no longer a powerful land of dreams, nor is it any longer a role model for us. One example of this can be seen in a recent best-selling book on your country's poverty issue. The title of the book is "Hinkontaikoku America" (Poverty Superpower, America). It was written by a Japanese journalist, TSUTSUMI Mika. The book describes how Americans are struggling with poverty in a plutonomy society and explains how Japan should not follow suit.
We know that a lot of young Marine troops stationed there come from poor families that cannot afford college education and have problems like domestic violence. They join the Marines by system, so called, Poverty Draft. That is why they cause troubles with Okinawa locals.
The interesting thing to note is that Japan was democratized and the wealth of the nation was redistributed from pre-war plutonomy by the US occupying forces. Thanks to them, Japan has become the most egalitarian society among industrialized nations. We do appreciate that. We are always good friends to you as long as you are what you should be. So please keep being a good friend to Japan.
Below is a photo of me, taken in Washington 20 years ago when I was attending university. I remember some of my classmates told me that I looked like JFK when I made a presentation on his foreign policy. I have many wonderful memories from the time I spent over there. People were very friendly and kind to me. I do not want to feel betrayed any longer.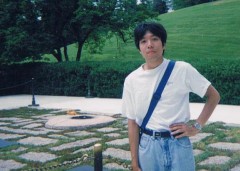 Sincerely,
I hope that she saw the scenery like that over there.
30 January 2014
Last week I went to Hakuba Happo Ski Resort in Nagano Prefecture.
Surprisingly beautiful place to be because it was really clear day. Views from mountains were spectacular.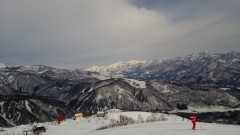 On top was like lunar surface.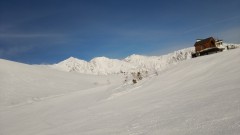 The courses are great.
One more surprising thing was that there were many foreign skiers or snowboarders. At least one out of 10 people skiing or snowboarding were foreigners, mostly from Australia.
I spoke with one Australian woman about why she chose to come to Hakuba. She said the place is better than Australia in terms of skiing or snowboarding because Australian snow are not good quality and snow leisure are more expensive. Since the season is opposite over there, people want to get away from summer heat, so snow leisure in Japan are very popular. There are repeaters of Hakuba visits. She said locals in Hakuba were so friendly and she and her family enjoyed spending vacation there.
I met many Australian skiers in Niseko, Hokkaido 3 years ago. Niseko is 2 hour flight from Tokyo. It is great in terms of snow quality, better than any other places in Japan or even the world. That is why I could meet skiers from Sweden in Niseko. Recently US Ambassador, Caroline B. Kennedy skied there.
Hakuba and Niseko both have other great tourism resource, Natural Hot Spring, Onsen. I bathed in hot spring bathes over there and of course met foreigners naked in bath tubs. Warming your body by natural heat water from volcano after skiing in the cold weather is one great feature of Japan's skiing.
But it seems Hakuba or some other ski resorts are better in the sense that the resort is closer to Tokyo, biggest tourist spot in Japan.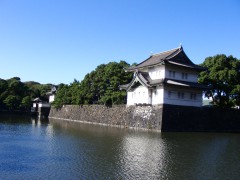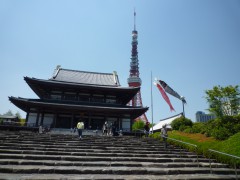 I heard some Australian tourists spend several days in Tokyo for sight-seeing and then got on the train to Hakuba. It took about 2-3 hours by train. Some use Japan's state of art express train, Bullet Train (Shinkansen).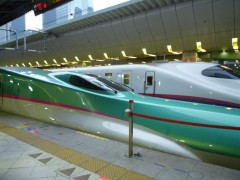 After they got to Hakuba, they spend a few days skiing and then took a bus to Narita International Airport to go back to their homeland. There is a direct bus line from the local bus station.
Wow, Japan has great tourism resources. Cool Japan!
If only no nuke accident like Fukushima happened 3 years ago, I can clearly state that. But I am so glad that so many foreign tourists stay in Japan even after such horrible accident that polluted all over the world occurred.
Japan should welcome them heart-warmingly. So we have keep healthy relationship with foreign nations. We must abandon nuclear power plants that jeapordize our nation and our planet.
For Australian we have to halt whaling in Antarctic Sea. No necessity for eating whale meat sailing so far away. Whaling in Antarctic Sea was never our tradition, only coastal fishery villages in a small scale.
I hope our people can improve ourselves by being aware of foreigners eyes. Knowing how other people see us lets us know ourselves better. We can view ourselves objectively. We should be grateful to foreigners.
By the way, I will come back to Hakuba soon.
I just come up with a good novel idea that can be a good travel course. The title is like "Hakuba International Lodge." I actually saw the sign of lodge over there. Skiers and snow boarders from all over the world joined the lodge and spend wonderful time and share meaninful experiences. Not just skiing or snowboarding, sight-seeing to Tokyo or Kyoto and naked bathing in natural hot spring (sometimes, co-ed style) and learn tea ceremony, zen mediation, etc.
Don't you want to try?
23 January 2014
Last Monday, US Ambassadar to Japan, Caroline B. Kennedy wrote the below comment on her twitter page.
"Deeply concerned by inhumaneness of drive hunt dolphin killing. USG opposes drive hunt fisheries."
I guess she was impressed by the documentary film "The Cove" which describes brutality of dolphin hunting in Taiji town in Mie Prefecture.
Whether her remark is right or wrong, it is double standard. So I replied to her as below.
"Double standard! Saving dolphins in Taiji and killing dugongs for new Marine base (construction) in Okinawa at the same time."
If you want to know why I wrote that. Read the posts with Okinawa tag on this blog or the below newspaper article.
We are sick of America's hypocrisy.