27 November 2013
The following is what I wrote to newly appointed US ambassador to Japan.

---------------------------------------------------------------------------------------
My name is Masagata, Japanese man living in Tokyo.
I used to study at San Francisco State University. My major was International Relations. I am now working as a translator using English knowledge I gained there.
I am writing this letter to tell you a very important matter for the both nations. I am very sure that you know many issues between the two nations. I would like to mention the most important one that might severely deteriorate current healthy relationship between the two for a very long period of time.
That is relocation of US Marine Base, Futenma in Ginowan city, Okinawa prefecture, the Southernmost tropical islands like Hawaii. In 1996 both US and Japanese governments agreed to relocate Futenma base to Camp Schwab to get away from populated area. Camp Schwab is on coastal line of the island. The area is called Henoko.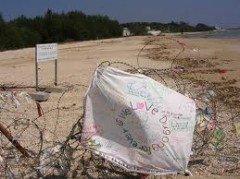 There has been local resistance movement since the relocation plan was announced. Localies near the Camp Schwab are concerned about deteriorating of their living environment. A lot of environmental activists oppose the plan as well because of abundance of wild life, which are very unique, only found in that place. One symbolic creature is dugongs, endangered marine mammals that eat sea grasses in that area. It is just strange that the nation that protests Japan's whaling is helping another marine mammals endangered. Some activists are planning to take legal action against US government regarding this issue. Please read the enclosed newspaper article titled, Dugong plaintiffs consider new action in U.S. to block Henoko landfill.
If the project is implemented as planned, the sea will be reclaimed and dugongs and other creatures' lives would be threatened. What will happen is your nation will be accused of helping diminishing of such wonderful and rare creatures for the interests of the few. The few, you might know, some business and government people who want some gains.
You might say it is what Japanese government handles, not what the US military is actively involved. No one in Japan thinks so. The US government can cancel that project and find another relocation site outside Okinawa. In fact US military presence in Okinawa and even nationwide is becoming nothing but troublesome.
More of us know US military presence no longer functions as defense or deterrence like in the Cold War era. China is said to be new threat but we know US-China relation has become more vital for your nation since China owns more US treasury bonds and buys more US goods than Japan does. President Obama spends more time having dialogues with Chinese leaders than with Japanese prime minister. We can easily predict the US would not help Japan even if China and Japan get into dispute for some reason. US cannot send troops to assist Japan because such action might cause great loss for your national interest.
Deploying your military so much in this country is just causing distrust against your country. I believe Okinawa issue arising is a great timing for your nation to rethink military deployment in Japan to better relationship between the two nations.
Sincerely,
------------------------------------------------------
I am planning to write more detailed version of the above later on adding some progress regarding Okinawa issues.
30 October 2013
I recently rent DVD series of TV show "Covert Affairs." The story is about a female CIA agent who is multi-lingual and her associates.
The show reminded me of 1970's most popular TV show, Charlie's Angels. But the main character, Annie Walker is not as sexy as the angels. It is more of how spies do covert activities. It is like female 007.
Her mission is not just steal classified information or investigate what is happening but recruit someone on target side to be information providers. Like in some episodes, Annie approached embassy worker of Syria to get access key of the embassy. She also convinced secretary of prime minister of Yemen to be that. It is like making someone another spy for CIA.
I am not sure how realistic the stories are. But recently news that cell-phone of German Chancellor, Merkel was tapped came out. US spends huge budget on covert activities. They do actually things like that to get what they want. That is most important matter in diplomacy.
Speaking of spies, there were people called Ninja in feudal Japan. Like Annie Walker and James Bond, they had extra-ordinary physical strength and spying ability. They were trained to be Ninja from their childhood. They were hired by regional lords to spy and assassin opponents.
Covert capability is like secret military for nations. Such spy matters should go on as long as human being exists. That is why such shows are interesting.
23 September 2013
Last weekend I visited Okinawa, Southernmost prefecture island. Over there I saw such cute view like Disney's animated film "Finding Nemo."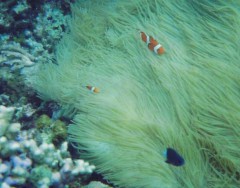 Clown fish over sea anemone with a blue fish. Looks like Marlin and his son, Nemo and their friend, Dolly. I was amazed but felt so sad at the same time. Because their lives are now in threat by planned construction of US Marine Base runway expanding from Camp Schwab.
The fish were in Ohura bay, which has been designated as most vulnerable place for environmental destruction because of rich bi-diversity such as clown fish, blue coral reef (the world biggest and Northernmost of its kind), dugongs and so on. If the runway is constructed by reclaiming the sea, the sea current will change and environmentally harmful substances would be released from the base. That must give adverse effect on wildife there.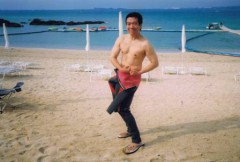 I scuba-dove into the sea from the opposite side of the bay to the U.S. Marine Base. Far away behind me in the above picture is where US Marine Camp is and where runway is planned to be constructed.
Growning opposition has emerged recently from localies. But the US and Japanese government are pushing hard to implement the project.
That coincides with hypocrisy in the film. That was, of course animated fiction. Fish don't talk and read. The film portrays them as good living creatures like human beings. In reality we eat fish and hunt them and put them in small aquarium unit just for viewing. In fact after the release of the film, clownfish were hunt overwhelmingly.
U.S. pretends like tropical fish loving and environmetally friendly nation but the reality is opposite and their act is very hyporitical. Not just Disney's fantazy but US policy against Japan's whaling. US is accusing Japan of whaling but at the same time it is harming most endangered marine mammals, dugongs in the bay with Defense Ministry of Japan. Some environmetal activists like Sea Shepherds even oppose dolphin hunting in Taich town of Wakayama Prefecture.
"Finding Nemo" is after all, Finding Nonesense and Hypocrisy.
10 September 2013
IOC announced Tokyo will host 2020 summer olympic. This will be second time Tokyo was awarded as host city. First time was 1964.
Many people celebrated this announcement. However, I cannot fully celebrate. I think it was good news but there are some problems related to this event.
Biggest criticism of Tokyo's hosting is that crippled Fukushima Daiichi nuclear plants are still leaking contaminated water and no way to stop this is determined. Prime Minister Abe said contaminated water is perfectly blocked within fenced area. That was a lie. It is going beyond that area.
Many people should be worried that if visitors to Tokyo olympic including greate athletes are to be affected by radioactives. Nobody knows what is happening here 7 years later. That means that Japan must deal with this problem very fiercely since the world is watching carefully. We need to solve Fukushima issue very seriously rather than celebrating.
The other thing I do not like is that olympic games have become too commercial. The reason that Tokyo was chosen is that Tokyo has so much money. IOC hopes to get big sponsors' money.
In the old days like Japan hosted first olympic game in 1964, the opening day was October 10 to avoid heat of summer, now it is scheduled to open in July, hottest time of a year. I do not think it is appropriate time for athletes to mark good records. It is to get more viewers in summer than autumn.
Personally as I get older, I cannot enjoy sports events like younger days because I learn athletes are not heroes rather they are livestocks of states or corporations. Or they, themselves are just fake entertainers. Real entertainers are better to me because their job is to act to entertain audience, wheras athletes are supposed to play seriously and fairly which is usually opposite to reality.
Sports games shouldn't be business or too much spotlighted. Sports are just for health improvement and leisure. The only business athletes should make money of is to be a trainer or instructor of sports for players, who are doing this for health and leisure, not for glory, fame and money. No athletes shouldn't be too serious to get steroids in their bodies. Sports are not worth it.
In fact, for Tokyo and Japan olympic games are not as significant as we hosted first time in 1964 when Japan was aiming to be advanced nation after the defeat of war. Japan has become advanced and rich nation already. Japan hosted olympic 3 times before and the World Cup soccer games in 2002. Not very surprising. It was more like one of big international events. So what? Will this event boost economy? Not likely. After the game is over, business as usual, only that time like what happened after other olympic games. Just small portion of business people in very short period.
I do not care about what is happening in my city 7 years later. I may be moving somewhere else to escape from all the fuss.