03 January 2014
Year of 2014 started.
On one of new year's days I was invited to the dinner at Tokyo's most expensive French cuisine restaurant, LA TOUR D'ARGENT. It is located in The Hotel New Otani Tokyo, one of Japan's high class hotel chain.
The below photo is me in kimono at the waiting room of the restaurant. Only waiting room is as big as one ordinary restaurant. I was allowed to take a photo of me within waiting room area.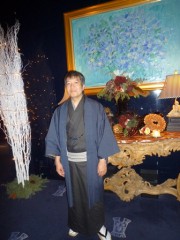 As you see the interior is georgeous. The dining room was georgeous as well. Mirror ceiling and chandeliers, candles. Tens of garsons in black uniform walking around to serve the same number of tables. That reminds me of the film "The Great Gatsby."
I had champagne, wine, and full course of very delicous meals. The speciality of the course was roast canard. Each guest was given a card of canard (duckling) he/she eats with its number.
A sommelier selected a wine that fits the course menu. He said one of most expensive wine the restaurant has is Romane Conti, which one bottle costs 2500000 yen, 25 thousands US $ or Euro. Of course it was not what our group could afford. So I chose half bottle of wine which costed around 19000 yen.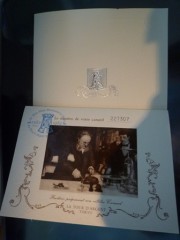 I really enjoyed that. But at the same time I had to feel guilty about it. The dinner cost a lot. That one dinner can equal a few people's monthly food expense. In the world half of the population are starving. This luxurious dinner should cost equivalentl to annual income of some portion of the people in this world.
Moreover, the bottle of Romane Conti costs construction of a school that hundreds of children can attend in third world nations.
Not just in third world but even in first world like Japan or America, such dinner is far exceeds the living standard of ordinary people. Last year I went to Okinawa. I visited the US Marine facilities. At the entrance of US Marine training camp, I saw the below sign that says "Hard training makes hard marine."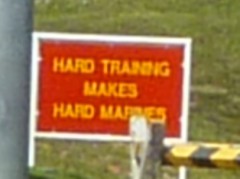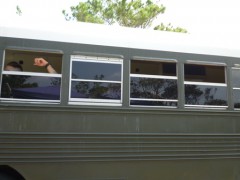 I saw the bus of trainees entering the gate. I heard those young people come from very poor family that could not afford college education for their children so they had no choice but to join the marine, what is called, Poverty Draft.
Meanwhile, very rich people like who can afford very expensive dinner like LA TOUR D'ARGENT exploits such young people to grow their wealth provoking wars all over the world. Kind of plutonomy. That is the social structure of today's world. I wrote a novel on this theme.
The bus transporting capitalism slaves to the military base reminds of one very historical place in Poland which I visited 6 years ago. The similar sign was posted at the gate of the facility.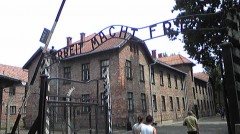 ARBEIT MACHT FREI. (Labour makes you free.)
18:55 Posted in Culture, France, Politics, Society, Tokyo Life, USA issues | Permalink | Comments (0) | Tags: military, poverty, class gap, economy, kimono, okinawa
24 December 2013
The novel was written by Japan's most notable novelist in 20th century, Endo Shusaku.
Recently the news that Hollywood decided to make the story into film next year was reported. The setting of the story was early 17th century of Nagasaki, Japan when the government ruled ban on Chrisitianity and entry of foreigners except Chinese and Dutch. That policy was aimed to get rid of western influence on its society in order to avoid colonization. Dutch was neutral as for this matter. Dutch hated Catholic nations and advised Japanese government to stop trading with Catholic nations.
The story started with a news that one most prominent and highly respected missionary sent to Japan abandoned his faith after severe torturing by Japanese authority. That shocked two Portuguese Catholic priests. They decided to secretly enter into one secretly Christian village in order to locate the missionary and continue Chrisian preaching for the localies.
However, they were found and arrested by Nagasaki authority and then their followers were tortured to death. One of the two died. One surviving one prayed God for his tortured followers but no salvage was done. God kept silence.
Later he finally met the person he wanted to meet from the beginning. The missionary he once respected whom he tried to locate. He was advised by the missionary to abandon his faith just as he did. Then he followed his advise. What he did was stepping on plate of engraved Jesus Christ picture. That was most usual custom to check if a person is Christian or not in those days. If you could do that, that proved you were never Christian or you just abandone your faith by doing so. He stepped on it to save tortured followers. It was a deal with the authority.
Since that era, Japanese Christian teaching was totally abandoned until it was re-allowed in late 19th century.
Surprisingly the story is based on real characters and real events. In the book the authority says "Christianity can never place roots on Japanese land. It is never universal teaching." That sounds true.
In fact centuries after that era, even after freedom of faith was insured by the constitution, less than 1 % of the population are Christian today. More surprisingly in this season you can veiw many illumination and Christmas trees and find Christmas events in Tokyo. But very few of them are dedicated Christians. Japanese Christmas events are nothing but commercial purpose.
One remain of Christianity of that era may be tea ceremony. There is a legend that Japanese tea ceremony was modeled after Christian mass ceremony in that era. In fact founder of tea ceremony, Sen no Rikyu was a man of the era that Christianity was still allowed and his wife and daughter were Christian.
If that is true, Christianity was continued throughout banned era. The root was placed. Praise Jesus and Praise tea!
01 December 2013
I went to one Art drawing workshop. The art of drawing naked human body. I have been to several of such workshop. I drew naked men or women posing on sketchbook.
This time was something different. I, myself became a naked model. I took off all the clothes and stood naked in front of more than 10 people including 3 women.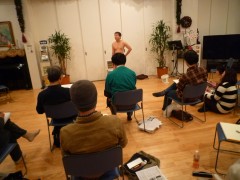 The reason I did that is I should be the one to be drawn to learn better about how to draw others. One should be the object of what he/she draws to know how to draw better. Vice-versa experience or role-reverse game.
It was a very meaningful experience. At first I was embarrassed and nervous but after a while I get used to be looked at. I stood still for 15 minutes and another 15 minutes I sat down on the chair still. I did not even move my head during those times. I felt double length of the time. 2 scenes of naked figure of me was drawn by artists around me. How did they view me?
The result was as follows. I picked 2 drawings as my favourite among more than 10 works. The above is picture I think most beautiful although it did not look like a real figure of me. The other is picture, I think closest image I have about myself.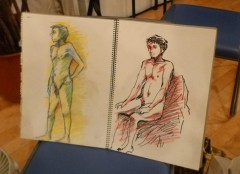 It was a really great experience that I want to share with other people. You learn how others view yourself and find yourself objectively.
However, I will never do that again. Once is good enough.
27 November 2013
The following is what I wrote to newly appointed US ambassador to Japan.

---------------------------------------------------------------------------------------
My name is Masagata, Japanese man living in Tokyo.
I used to study at San Francisco State University. My major was International Relations. I am now working as a translator using English knowledge I gained there.
I am writing this letter to tell you a very important matter for the both nations. I am very sure that you know many issues between the two nations. I would like to mention the most important one that might severely deteriorate current healthy relationship between the two for a very long period of time.
That is relocation of US Marine Base, Futenma in Ginowan city, Okinawa prefecture, the Southernmost tropical islands like Hawaii. In 1996 both US and Japanese governments agreed to relocate Futenma base to Camp Schwab to get away from populated area. Camp Schwab is on coastal line of the island. The area is called Henoko.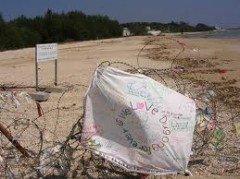 There has been local resistance movement since the relocation plan was announced. Localies near the Camp Schwab are concerned about deteriorating of their living environment. A lot of environmental activists oppose the plan as well because of abundance of wild life, which are very unique, only found in that place. One symbolic creature is dugongs, endangered marine mammals that eat sea grasses in that area. It is just strange that the nation that protests Japan's whaling is helping another marine mammals endangered. Some activists are planning to take legal action against US government regarding this issue. Please read the enclosed newspaper article titled, Dugong plaintiffs consider new action in U.S. to block Henoko landfill.
If the project is implemented as planned, the sea will be reclaimed and dugongs and other creatures' lives would be threatened. What will happen is your nation will be accused of helping diminishing of such wonderful and rare creatures for the interests of the few. The few, you might know, some business and government people who want some gains.
You might say it is what Japanese government handles, not what the US military is actively involved. No one in Japan thinks so. The US government can cancel that project and find another relocation site outside Okinawa. In fact US military presence in Okinawa and even nationwide is becoming nothing but troublesome.
More of us know US military presence no longer functions as defense or deterrence like in the Cold War era. China is said to be new threat but we know US-China relation has become more vital for your nation since China owns more US treasury bonds and buys more US goods than Japan does. President Obama spends more time having dialogues with Chinese leaders than with Japanese prime minister. We can easily predict the US would not help Japan even if China and Japan get into dispute for some reason. US cannot send troops to assist Japan because such action might cause great loss for your national interest.
Deploying your military so much in this country is just causing distrust against your country. I believe Okinawa issue arising is a great timing for your nation to rethink military deployment in Japan to better relationship between the two nations.
Sincerely,
------------------------------------------------------
I am planning to write more detailed version of the above later on adding some progress regarding Okinawa issues.