15 September 2019
A story of a Mexican American woman who worked in Japanese cuisine restaurant for the purpose of getting a stable job and later came to want to be a sushi chef. The story took place in California.
In Japan you can rarely meet a female sushi chef. It is said that women are unfit for the job because their body temperature is normally higher than men so they cannot grip rice and raw fish properly.
But such things are nonsense. The bottom line is it is just male chauvinism that prevented women from entering that industry.
In the film the owner of restaurant preferred Asian men standing and making sushi inside counter facing directly to customers. It was his intent to keep the image as a Japanese restaurant. She cooked in the inner kitchen. She could make better sushi and never smoke but Asian men who smoked were allowed to face customers.
Why are we so stubborn?
The film seemed to question how Japanese should deal with new ideas and educates us how to live with diverse population. Meaning we have to give up conventional stereotypes of our own.
There are many foreigners who do Japanese things lately. There are many foreign sumo wrestlers. There are many women who do what traditionally men do.
A dark skin Mexican female sushi chef indeed looks odd to us but that doesn't mean it is wrong. As long as they can make delicious ones, it is desirable.
In the film protagonist knew importance of freshness even before she became a chef. That is very much related to sushi making.
Japanese cultures are not just for Japanese to enjoy and preserve but all of the people in the world.
Besides above, what you can learn from the film is sushi rice is made with vinegar, sugar, and salt. Japanese chef use carbon steel knives, sticking chopsticks on rice is very inappropriate act which resembles funerals.
Great lessons for Japanese viewers. Most Japanese never knew.
16 May 2018
Have you heard of the term "Dark Tourism"?
This is the tour to spots in which historically or even recently terrible incidents happened. It is not a travel to have fun. Rather it is for travelers to study the past and present for the better future.
I recently found I have done that many times for many years. Actually I've written about some of such trips on this blog.
But here I present photos and name of sites, year I visited.
Pearl Harbour, Hawaii, the site the Japanese military attacked on US Naval Force on 7 of December 1941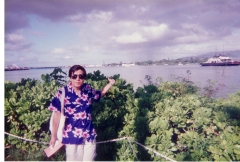 Nanjing China September 2004, the site of Rape of Nanjing in 1937, where the Japanese Imperial Army mass-murdered hundreds of thousands of Chinese including civilians.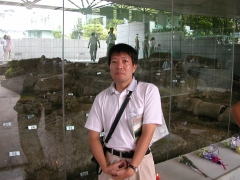 Auschwitz, Poland 2008, Holocaust Death Camp established by Nazi-Germany during the second world war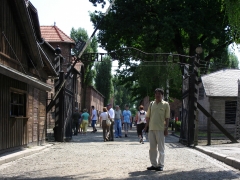 Hacksaw Ridge, in Okinawa, July 2017, A steep cliff, a big battle site between Japan and US during the second world war, where US forces climbed up to the Japanese Imperial Army Base
This incident was adapted to the 2016 film "Hacksaw Ridge." I joined a guide tour of viewing the site where the battle took place.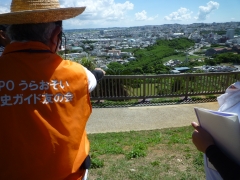 The below photos are taken at The Former Navy Underground Headquarters, which I took in September 2013.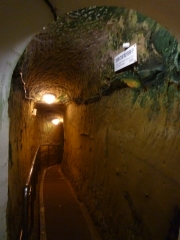 Trace of suicidal bombing by a cheif commander inside the headquarter in the end of the battle.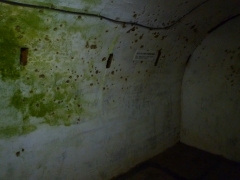 This year's March,
Execution site of 26 Christians in Nagasaki, late 16th century,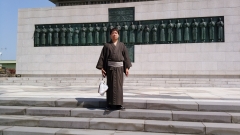 Half blown Torii Gate by the Atomic Bomb dropped on 9 of August 1945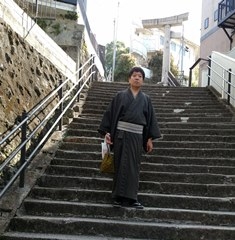 A-Bombing dome in Hiroshima, near Ground Zero of the atomic bomb dropped on 6 of August, 1945
There I met a survivor of the bomb and a German tourist and had local specialty food Okonomiyaki together at a restaurant nearby. I would like to write a mock-documentary script based on that experience.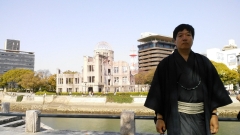 As for the recent matter, gate of Evacuation zone of Crippled Fukushima Nuclear Power Plants that was destroyed by the earthquake and Tsunami in March 2011. I visited there last year's March. Radiation Measure indicated twice higher level than normal. It is like another tour to Chernobyl.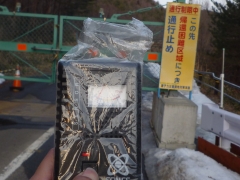 Some claim, visiting those places should not be regarded as Tourism. But I believe this is something we all have to do. Because we are living in a world such things can happen again anytime.
Later I want to show another type of Tourism, which I call "Hot Tourism." Another Study Tour but what you see is currently happening and can join the incidents if you like.
07 October 2015
Last month during what is called "Silver week" holidays (September 19 to 23), I visited a feudal period castle, Himeji Castle. It is located in Himeji city, 3 hours and half by Bullet Train from Tokyo and almost 1 hour from Kyoto.
As the train was reaching the Himeji station, I could view the white castle from the window.
As soon as I got out of the station, I could view the castle far away.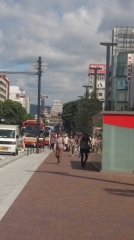 It was magnificient view. As I got closer to the castle, its appearance impressed me more.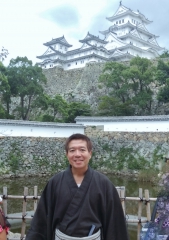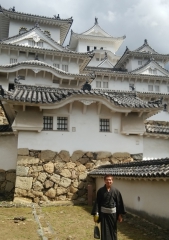 The castle has had that appearance since early 17th century. It is one of 12 still existing castles from the feudal period. In late 19th century, there were hundreds of feudal lords' castles in Japan but most of them were dismantled by new modern government order or destroyed by air raid during the second world war.
The castle went through several rennovation because it is old and wooden-made. But the basic structure and materials are the same as the old days with no elevator inside. Tourists have to climb up ladder-like stairs to the top 6th floor.
Actually such castle tower is not for residence of feudal lord rather, it was for symbol of power, observatory, and evacuation from the enemy invasion. So not functional for living. But the veiw from the top was spectacular.
It is designated as World Heritage site in 1990's. So it is famous internationally. But it was already famous before designated as World Heritage site. The castle was one of film location sites of 007 "You Only Live Twice."
The film was released in 1967. It showed how it was like in those days Japan. First James Bond actor Sean Connery wore kimono like a Japanese man and played like Ninja. Ninja were spies like 007 in feudal period. Himeji Castle was used as a ninja training facility.
The story is unrealistic like a comic. Maybe that is the feature of the film.
But viewers can enjoy sight-seeing of Japan. Seeing Sumo matches, kimono bond girls, fishery village, traditional wedding, Ninja, Himeji castle, volcano mountain and etc. All the things are very much Japanese. Not only those things but modern aspects of Japan were included such as subway, city neons, Toyota sporty car, 1964 Tokyo Olympic facility and pier buildings that James Bond fought against gangs.
Interestingly, foreigners could find more beauty of Japan than native Japanese.
This film is kind of basic form of 007 film since it was last work based on Ian Flemming novel. The story has some mutuality with film "Mission Impossible, Ghost Protocol". It included the global criminal organisation called "SPECTRE" that James Bond fought against.
SPECTRE is latest 007 film scheduled to be released this year. In that sense it is a great timing to see this old 007 film.
I am glad that James Bond, modern day ninja visited Japan and let viewers enjoy touring of this mysterious country.
Last scene of the film depicted Japan's mysterious aspect. Eruption of the volcano. Japan has many volcano. That is why we have many natural hot springs as well as earthquakes that sometimes caused big tsunami and destroy nuclear power plants.
17 August 2015
Firework, I saw at a military base in Tachikawa.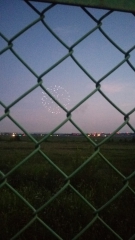 Dancing on the street, in kimono. Kagurazaka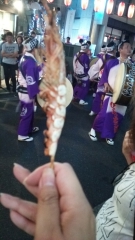 Floating lanterns on Sumida River, Asakusa. Each lantern represents soul passed away.