03 July 2013
Did you know there are male Geishas in Japan? Geisha usually means female escorts in kimono. But there is male version of it.
Men in kimono entertain guests in the tea houses or Japanese style restaurants.
They are called "Taikomochi" or "Hokan" in Japanese.
Last month I went to the lunch show of a male Geisha in Kagurazaka district in Tokyo. The Geisha name is Yugenteitamahachi.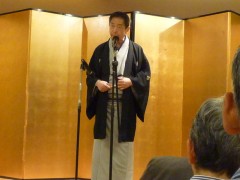 He is one of very few male Geishas remained in Japan. In the old days like in middle of 20th century there were more than 400 of them. As time passes by, not many people do not enjoy Geisha shows in Japanese style room. He said that as entertaiment is diversed, people can have more choice for entertainment, not just Geisha play.
Male Geisha do not play the same role as Geisha girls. They are not sexy, they are rather funny characters, like comedians. They coordinate between male guests and Geisha girls. So the guests can know who can be best girls for them. They know how to chat with guests, including man to man vulgar chatting. They are very considerate, avoiding politics and religions as topics.
But they can do performances as singing, playing shamisen guitar, mimicing celebrities, and dancing.


The show was not as impressive as Geisha girls' show I enjoyed a few months ago. But it was good that I could learn one form of Japan's tradition. Sorry to know that this is an endangered occupation.
20 April 2013
That was first time in my life. I saw them on TV or films but never met actual ones until that time.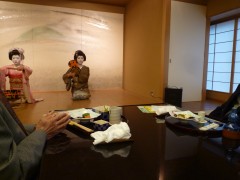 I went to one of tea houses in Mukojima, Tokyo, famous Geisha town.
I joined lunch party course set up by tour agency, which cost around 100 US $.
It was great. The meal was delicious and 3 Geisha dressing up in beautiful kimono served and entertained guests by performing music and dances and playing games.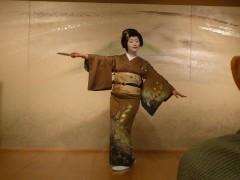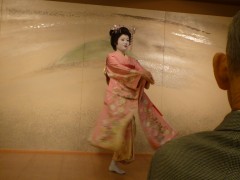 When I drank sake, a Geisha came up to me and pour that to my cup and start chatting with me. They did it very nicely. One Geisha gave compliments to my kimono. I was really glad. I talked about my favourite Geisha film, Memoirs of a Geisha. A youngest geisha, apprentice one said she saw the film. Then she said that portrayal of Geisha in TV shows and films is exaggerated. She did entertain foreign guests many times.
Many may wonder what Geisha means. Gei means performance or art, sha means person. Geisha is performer or artist or entertainer.
I really enjoyed their entertainment. It was a bit expensive but worth it.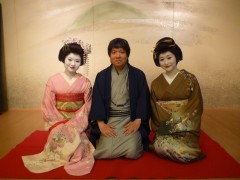 Why not try if you have a chance to visit Japan?
13 February 2013
I went to Kyoto last weekend holidays. The main purpose of the trip was to meet a foreign instructor of Japanese Sado. Do you know what Sado is? Sa means tea, Do means way, meaning "Way of tea." You can learn how to serve tea and sweets to guests and how to be served as guests.
Some people not only foreiners but even Japanese claim that it is too much of formality. I always thought that way. But my encounter with this Sado instructor changed my view.
His name is Randy-san. He manages a cafe in Kyoto. He is a Canadian man who has lived in Japan for more than 20 years. He first came to Japan to learn martial arts but later found out he had to be skillful for both martial arts and academic things. Then he chose Sado.
I joined his cafe's tea ceremony lesson for beginners. 6 students including me attended the lesson. His Japanese is excellent. He wore a very suitable kimono for tea ceremony. Only I wore kimono among 6 Japanese attendees. Actually my kimono was not suitable for tea ceremony.
He could explain every detail of Sado such as how to prepare and proceed.
Then each student was instructed to perfom how to do each act of pouring hot water, mix with tea powder and then serve guests and how to be served. It is precisely ruled like social dances. No free form on your own. You have to memorize each act and perform that in public to be a good host and guest. That is kind of a hard thing to do. Interesting those things should be taught by a Japanese instructor but this time the other way around. I, Japanese was a student and Randy-san, Canadian was an instructor.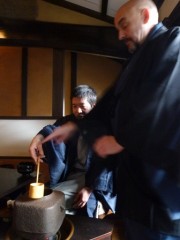 He said "up, pull, cover" when I try to bring up hot water from the pot. I had to repeat that 3 times. Weird, just for bringing up, you have to know how to do each act. But that is the way of tea ceremony.
I asked him why we should follow so many rules just for tea ceremony.
He answered that we should not consider them rules rather these are manners. It is fun to have meals and drinks without manners in casual clothes relaxing at home. But you can also enjoy formal dinner at high class restaurant wearing formal clothes. Just like that. You can enjoy such formality.
He said significance of Sado is like significance of life.
Wow, it seems a foreinger, westerner had a better view on Japanese culture because he sees things objectively.
Maybe that is a dilenma we, Japanese including me have had for a long time. He just seemed to solve that instantly.
It is like how I learnt why Geisha girls put thick white make-ups on their faces by a Hollywood film "Memoirs of a Geisha." In the old days party rooms were so dark without strong lights that Geishas needed such make-ups to shine their faces to be recognized. Japanese films don't usually show indoor darkness of the old days. Without knowing darkness of that period, you can never learn how the old time people live and see the world. Hollywood did a better job in that sense.
Ironically Randy-san got me more interest in one of my country's heritage. Similar thing happened in sports field recently. Judo has been criticized for causing scandals such as harrassment and violent instruction to female athletes. International Judo organization denouced that scandal saying that violent instruction is against original philosophy established by a founder of Judo, Kano Jigoro.
We, Japanese are forgetting what we really are. We have to bring it back!
23 January 2013
Aren't they sexy? They are really Japanese men saving Japan's heritage.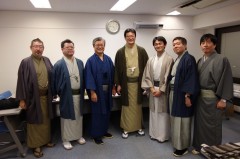 A tall man in the middle is Mr. Hayasaka Iori, who is a male kimono producer. A man in blue kimono next to him is a president of English learning school, CEL English Solutions. The pair held the kimono party in Tokyo on January 14, 2013.
Recently very few Japanese wear kimono. Especially among men, very very few do. So a lot of kimono business went bankrupt. Kimono industry has been shrunk by that.
If more foreigners encourage Japanese men to wear kimono, I think, more of us will wear that.
I would like foreigners visiting Japan to see more men and women in kimono and enjoy.