17 August 2013
Last month I attended my alma mater's alumni event in Tokyo.
A lot of alumni living in Japan gathered at a restaurant exchanging memories and update information of the university. One faculty member from SFSU joined and told me about current situation. I graduated in late 1990's. He said a lot more buildings were constructed on campus.
But most surprising attendees were alumnis who graduated in 1960's. They were oldest in the group. He told us about his experience in that period. There was a student strike movement in those days following civil rights act. Ethnic minority students demanded the university to require all the students take ethnic minority study related subjects. They had been frustrated with racism in the university. Classes were boycotted and school buildings were occupied. The president of the university was changed during that time. It was Dr. Hayakawa, Japanese American. He accepted that demand.
Since then SFSU requires all the students to complete ethnic minority related courses. I did, of course. I remember what I took were Japanese American studies, Black studies, LGBT studies, and history of Japanese and Chinese women. Those were greatest studies in my life.
That ethnic study requirement was what my alma mater first acquired and spread all over the US. It was a good thing that I am proud of as alumni.
So my novel idea is based on what I heard and I research.
One Japanese student who grew up in a conservative family, Hiroshima, 1960's joined the university. He longed for America and American culture. He met a lot of kind of students there and instructors. One of them was an English teacher who was Japanese American, strict and conservative. Because of his instruction his English ability improved faster.
The strike started. The president was changed. It was that Japanese American teacher. The Japanese boy expected him to understand the movement because of his ethnicity but he was actually opposing that movement and trying to supress the students.
The Japanese boy along with his friends who were white, Afro-American, Asian Americans negotiated with him. He used what he learnt and loathed from his childhood to convince the president. Japanese heritage, tea ceremony, Kendo and so on.
Sounds interesting, doesn't it?
The theme song should be "Blowing in the wind." The answer is blowing in the wind.
30 July 2013
I just saw the film. It was not excellent but not bad, actually it was good considering it was made by Americans. It was indeed made from American perspective but thoroughly desriptive about Japanese personality and culture.
The story was based on memoirs of a former military officer who did research on the emperor's responsibility for the second world war. He interviewed with former politicians, military officers, and servants for the emperor to learn about what Emperor actually did before the war and end of the war. He also tried to find where his loved Japanese woman was.
One of impressive things about the film was one former prime minister said "Japan just followed what US and European nations did in terms of invading China and Phillipine. But why were westerners never convicted?"
The film described difference between Honne (true feeling) and Tatemae (appearance). Japanese seem to be calm in apperance but in their mind they have strong feeling and devotion which can make them brutal.
Emperor's role was very ceremonial so he was not actual starter of the war. It was the nation and militants that led the war.
However, I want to rate this film "B" not "A." It contains love romance essence but the conclusion of the romance was not what I expected. It was reverse and not so good.
Emperor has no responsibility for the war act. Not totally true. Recent research suggests the emperor actively coped with military people.
I just could not be totally satisfied with the film. I wanted more twists and surprises. Kind of clechay for Japanese who has studied this part of history.
Personally it was really helpful to me. I recently started to write a novel on the same period of the history. Mine is gender reverse. American woman and Japanese man. The woman character is inspired by a true character who helped rebuild and democratise Japan in post-war era. She visited Japan before the war.
Hope mine will come out as a film like this film.
03 July 2013
Did you know there are male Geishas in Japan? Geisha usually means female escorts in kimono. But there is male version of it.
Men in kimono entertain guests in the tea houses or Japanese style restaurants.
They are called "Taikomochi" or "Hokan" in Japanese.
Last month I went to the lunch show of a male Geisha in Kagurazaka district in Tokyo. The Geisha name is Yugenteitamahachi.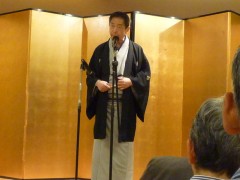 He is one of very few male Geishas remained in Japan. In the old days like in middle of 20th century there were more than 400 of them. As time passes by, not many people do not enjoy Geisha shows in Japanese style room. He said that as entertaiment is diversed, people can have more choice for entertainment, not just Geisha play.
Male Geisha do not play the same role as Geisha girls. They are not sexy, they are rather funny characters, like comedians. They coordinate between male guests and Geisha girls. So the guests can know who can be best girls for them. They know how to chat with guests, including man to man vulgar chatting. They are very considerate, avoiding politics and religions as topics.
But they can do performances as singing, playing shamisen guitar, mimicing celebrities, and dancing.


The show was not as impressive as Geisha girls' show I enjoyed a few months ago. But it was good that I could learn one form of Japan's tradition. Sorry to know that this is an endangered occupation.
20 April 2013
That was first time in my life. I saw them on TV or films but never met actual ones until that time.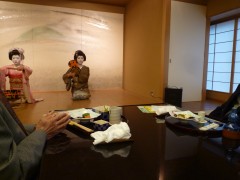 I went to one of tea houses in Mukojima, Tokyo, famous Geisha town.
I joined lunch party course set up by tour agency, which cost around 100 US $.
It was great. The meal was delicious and 3 Geisha dressing up in beautiful kimono served and entertained guests by performing music and dances and playing games.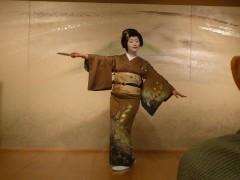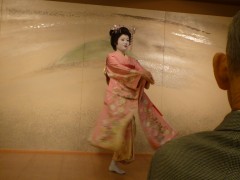 When I drank sake, a Geisha came up to me and pour that to my cup and start chatting with me. They did it very nicely. One Geisha gave compliments to my kimono. I was really glad. I talked about my favourite Geisha film, Memoirs of a Geisha. A youngest geisha, apprentice one said she saw the film. Then she said that portrayal of Geisha in TV shows and films is exaggerated. She did entertain foreign guests many times.
Many may wonder what Geisha means. Gei means performance or art, sha means person. Geisha is performer or artist or entertainer.
I really enjoyed their entertainment. It was a bit expensive but worth it.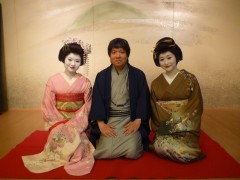 Why not try if you have a chance to visit Japan?