12 August 2012
This is translation of Japanese novel on my Japanese blog site. The original title of the novel was "Nihon Danji wo Yamerarenai (Can't stop being Japanese traditionl man).
A Candadin man experiences FUNDOSHI, Japanese traditional male underwear, swimming suit and custume for festival.
Jacques Charbonneau was a Canadian man born and raised in Montreal, Quebec, Canada. He belogns to majority of that reigion, so called "French Canadian."
From his childhood, he spoke French at home. His parents and relatives were all French Canadians. But he spoke English at school. Half of his friends were Englisha dn the other half were French.
Therefore his native languages were both Englisha and French. He was a billingual but since he entered Tronto University in State of Ontario, one more language was added and then he became tringual. The third language was Japanese.
Why he studied Japanese was he met a Japanese girl named Yuriko Watanabe, whom he fell in love with. She could speak English but he wanted to speak to her directly in her mother's language. The he chose Japanese as his major. With help of Yuriko, he mastered Japanese. His Japanese was excellent so that even Yuriko said that he could speak like Japanese national. He graduated from Japanese department of the university with top rank. After graduation, he started translation and interpretation among English, French, and Japanese. Afterwards, Yuriko became an important job partner and finally a partner in his private life.
When they got married, Yuriko's father, Taizo Watanabe flew to Canada and approved their marriage. The wedding was held in a small church with attendance of small number of people. Taizo was her only family member since her mother was already dead and she was the only child for Taizo.
Jacques wanted to visit Yuriko's hometown but he had been busy for his work and he was too afraid of flying. He could not have chance to visit Japan. He always regretted that he never visited his wife's hometown. He thought he should overcome flying phobia and visit Japan. He could speak Japanese fluently but he could only use it to his wife and Japanese living in Canada.
Yuriko never recommended Jacques to visit Japan. Her hometown was one of most conservative place so localies never welcome a foreign white man like Jaques. She heard that localies did not think her marriage to a foreigner was a good thing. So They thought they did not have to regret it.
But in the third year of their marriage, the couple had to visit Japan. Taizo got sick and was hospitalized. He got out of the hospital but had to stop working and stay home for rehabilitation. A woman who lived nearby sometimes visited him to see how he was but he seemed so depressed that Yuriko should look after him to help him recover his condition.
Yuriko was so worried that the two decided to go there. Translation work could be done even after they moved to Japan as long as they could maintain internet access. They checked the IT environment there and found out there was no problem doing it.
Jacques stood for more than 10 hour flight and finally arrived in Kansai International Airport in Japan. The two travelled to her hometown, Awai Town. The town was on the coastal line of the Sea of Japan in Chugoku region, it was a fishery town. From her home, spectacular ocean view was seen from a window. Taizo gladly welcomed Yuriko and Jaques after a long absence. Taizo was a local fisherman.
They used the room Yuriko had used from her childhood. They started getting along as family. Jacques found Taizo very weak comparing what he saw at the wedding. He got thinner and looked pale. He was as tall as Yuriko but looked smaller than before. He wished he would come back his fishery work afte he regained health. He thought about how to deal with him. Jaques called hime "Otosan (Father)" like Yuriko did.
A week has passed. Things happened as expected. Localies called him "Gaijin (Foreigner)." They spoke about him behind him but they never greeted. They treated hime like outsider. He tried to understand what they said but the language they used was blended with strong accent and dialect. With Yuriko's help. Jacques gradually understood what they said.
Even after they understood the language, living in conservative and closed community was hard for him. Furthermore he was a tall white Canadian. Some stayed away just by looking at him. He was appearently discriminated.
One more troubling thing happened, that was because of season he visited.
Hot and humid climate. It was far different from where he grew up. Even Montreal could get as hot as 30 degree but such hotness was what he never experienced before. It was because of Japan's humidity.
He got sweat very soon. Japanese got used to it but Jacques never resist such wet feeling. He was adapted to the coldness but not such humidity sweating so much.
His body finally responded to it. He got eczema. It was itchy and reditsh. He could not stop scratching. What should he do? He came over to help his father in law recover but he, himself became sick.
Yuriko advised him to see a doctor. The doctor diagnosed his symptom. The result was "latex allergy" in other way, it is called "Rubber allergy."
Jacques asked a doctor "Why did I get such allergy?"
"It is because of underwear you are wearing. The rubber band got soaked and melted down to your skin. Japan's humid summer melted rubber and got into your body that caused allergy symptom. Unless you stop wearing it, it can never be cured."
"You tell me never to wear underwear? Oh, no!" Jacques was shocked to hear that. It was never comfortable living without undewear. Especially for men it was necessary to tighten private zone to stay normal.
"Since you can't wear conventional underwear, we advise patients to wear something else instead" the doctor said showing him white long cloth.
"THIS IS FUNDOSHI".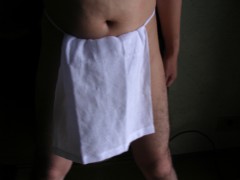 Continued to Chapter 2.
07 December 2011
A book "Washington Heights" is written by a female journalist, AKIO Satoko. She studied how the United States government managed occupied Japan after the country defeated his enemy. Then she spotlighted on "Washington Heights," which was exclusive residential area for the U.S. military personnels located in the center of Tokyo. The area was built after the war was over by the order of U.S. occupational force. Before the war, it was Japanese imperial army's property. It was located next to Meiji Jingu Shrine, memorial shrine for the Meiji Emperor (crowned between 1868-1912) .

After the Olympic the place turned to famous public park, Yoyogi Park and Japan's public broadcasting station, NHK building.
The book mainly described episodes of Japan's Occupied era (1945-1952) and economic booming era until Tokyo Olympic in 1964. When the U.S. force arrived in Japan, they occupied many places in Tokyo for its administration purpose. The General Head Quarter was placed in Dai-ichi Life Insurance Building near the Imperial Palace.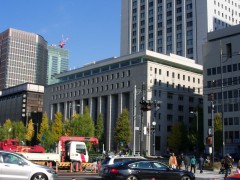 But they needed housing for soldiers and staff working for the G.H.Q. So they ordered the Japanese government to build housing block for Americans, requiring facilities and equipment equivalent to American standard of that time. That was the hell of a big job for the Japanese government because the places were all burnt down, and shortage of goods.
The Washington Heights, American style housing provided Japanese new culture and lifestyle. Because American personnels and their family living there wanted entertainment, many Japanese entertainers were recruited for performances for them. That caused a big entertainment icon, Journey's Production, which has released many great talents to Japan's showbiz until now. Morie Hana, a famous Japanese fashion designer opened clothing shop for women living in the residential area. She studied most sophisticated western clothing during that time. As for food culture, Japanese learnt fresh vegetable farming to meet demands from Americans. Japanese learnt how to farm vegetable for the fresh salad taking sanitation into account.
As for how Americans thought about occupying Japan was described as well.
When Americans first arrived in Japan after the war, they were surprised because their former enemy citizens were so friendly to them. Many Japanese in fact, felt liberated when the war was over. So occupation worked more smoothly than expected. The U.S. occupation in fact provided democratization of Japan including women's suffrage, reform of biased wealth distribution towards elite class. The U.S. aim was to demilitalize Japan so they thought cracking down feudal customs and elite class power was best way to do.
The U.S. at that time were so worried about communist threat from Soviet Union. So they treated Japan nicely although Japan was a former enemy.
Most interesting episode noted in the book was that a former Japanese military officer met Afro-American man working as lower rank staff of G.H.Q. who told him that Blacks were glad when Japan attacked Pearl Harbor.
The conclusion of the book was U.S. occupation provided Japan great things but we have to remember Japan has been controlled by U.S. since that time and even after Japan recovered independence, we are always facing indirect occupation by the U.S. such as military bases in Okinawa, Tokyo, and diplomatic pressure to liberalize trade and commerce.
Recently the U.S. hegemony has been on the edge as you see "Lehman Shock" and "Occupy Wall Street" movement. The U.S. can no longer function as a role model for Japanese.
Thanks to the U.S. we could have developed the nation acquiring many great things from them but it is time we develop us ourselves in our own way.
12 July 2011
Last Sunday, I went to the Enoshima Island to participate in the Tenou Festival of the island's shrine.
It is located 1 hour and half train ride from Tokyo.
It is to commemorate the event occurred in 19th century, which local fishermen transported cast-away treasure of the shrine across the sea.
So in the festival, the decorated box of the below photo, so called "Mikoshi" was transported by tens of people to the sea from the shrine.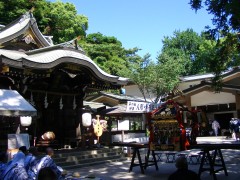 When the mikoshi arrived near the beach, only naked guys remained there and transport it to the sea.
I joined the naked transporter group. Of course we were not totally naked. We wore white loincloth so called "Fundoshi." Very traditional men's swim wear. The difference from modern one is it doesn't cover hips and asses. It has no rubber band in it. You tighten it by folding and roping.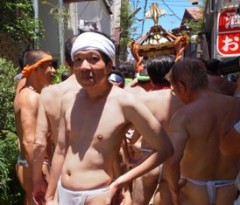 Bathing into water wearing fundoshi made me feel so nice. I could feel water almost all of my lower body. I can never wear boxer pants once I learned how it feels.
See this video to know what we did.
After swimming in the sea, the group got out of the sea and walked on the street carrying the mikoshi shouting, jumping to demostrate men's energy. Since we got wet and the fundoshi is soaked, private zone's shape became obvious.
Kind of embarrassing? No if you are really Japanese boy, so called "Nihon Danji." I never minded spectators looking at us or taking pictures. We were there to show what we were.
That is the spirit of Naked Festival. I really enjoyed it. I became "Nihon Danji."
However, in modern time not many Japanese men wear it so often because some are too embarrassed or it takes time and is difficult to wear casually. That is why fundoshi can only be seen as custume in festival today.
If you are interested in knowing how to wear it, please see the below video clip.
19 June 2011
I went to the Imperial Theatre near the imperial palace to view the stage show of "Gone with the Wind." As you know this is based on America's most famous novel written by Margaret Mitchel. It was written and made into film in 1930's.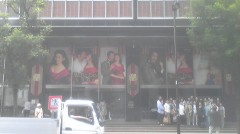 I've seen the film version many times and read some parts of the original novel. The stage show was 2 hours and half long. It was like summarized fairly tale version of the novel and film. It is surprising to know such show was played by Japanese actors. It is like Americans playing Samurai and Geisha.
Overall the show was well-done. I do not have to compare that with the film version or original novel. Stage version has its own flavour. This story has good essence of making good story telling. Like contrast of characters, contrast of situations. Good transition and developments so that viewers can easily follow.
However, I do not enjoy the story as much as before.
The story is in fact, unrealistic in the following points.
1. Egoistic and moody girl like Scarlett could attract so many men.
2. Such spoiled girl growing up in a wealthy family could take care of giving birth of a child and live through turmoil after the war.
3. Such young lady fell in love with much older guy like Rhett.
Furthermore this story has been criticized for romanticizing the slavery time in the South.
Afro-American people were portrayed as loyal slaves reveling with their oppressors. In the original novel the word "nigger" was repeatedly used. There was an event that Scarlett was assaulted by a Afro-American robbery and her second husband, Frank Kennedy took a revenge of that being Koo Klax Kuran.
Indeed the story was written from the viewpoint of conservative white people in the South. Slavery shouldn't be romanticized.
I am recently interested in an actress, Hattie McDaniel in the film version who won Academy Supporting role award. The film was clean-up version compared to the novel. Not using the word "nigger," Scarlett being assaulted by white man instead of Afro-American. Scarlett's Mammy played by McDaniel did played a very important and active role in the film.
I guess it was because the producer Selznick was Jewish and sharing some oppression experience with her. The film was made in 1930's when Nazi-Germany arose in Europe.
McDaniel made a speech that she was glad to receive the award on behalf of Afro-Americans. She did the great job in that sense although she had to play a sterotype role.
I guess it would be more interesting to make a film of how she lived and how she acted in the fim during that time. Such thing should be focused.
On the Stage version I saw slave role actors put black paint on their skin to look like Afro-American. Scarlett screamed at a slave "Kuronbo (meaning Nigger)." Scarlett was assaulted by Afro-American robbery. These are wrong things, aren't they.