12 July 2011
Last Sunday, I went to the Enoshima Island to participate in the Tenou Festival of the island's shrine.
It is located 1 hour and half train ride from Tokyo.
It is to commemorate the event occurred in 19th century, which local fishermen transported cast-away treasure of the shrine across the sea.
So in the festival, the decorated box of the below photo, so called "Mikoshi" was transported by tens of people to the sea from the shrine.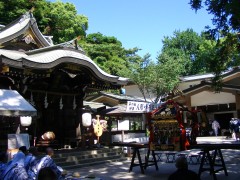 When the mikoshi arrived near the beach, only naked guys remained there and transport it to the sea.
I joined the naked transporter group. Of course we were not totally naked. We wore white loincloth so called "Fundoshi." Very traditional men's swim wear. The difference from modern one is it doesn't cover hips and asses. It has no rubber band in it. You tighten it by folding and roping.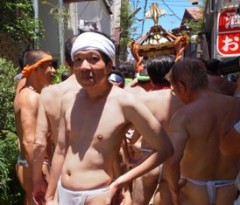 Bathing into water wearing fundoshi made me feel so nice. I could feel water almost all of my lower body. I can never wear boxer pants once I learned how it feels.
See this video to know what we did.
After swimming in the sea, the group got out of the sea and walked on the street carrying the mikoshi shouting, jumping to demostrate men's energy. Since we got wet and the fundoshi is soaked, private zone's shape became obvious.
Kind of embarrassing? No if you are really Japanese boy, so called "Nihon Danji." I never minded spectators looking at us or taking pictures. We were there to show what we were.
That is the spirit of Naked Festival. I really enjoyed it. I became "Nihon Danji."
However, in modern time not many Japanese men wear it so often because some are too embarrassed or it takes time and is difficult to wear casually. That is why fundoshi can only be seen as custume in festival today.
If you are interested in knowing how to wear it, please see the below video clip.
19 June 2011
I went to the Imperial Theatre near the imperial palace to view the stage show of "Gone with the Wind." As you know this is based on America's most famous novel written by Margaret Mitchel. It was written and made into film in 1930's.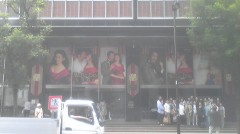 I've seen the film version many times and read some parts of the original novel. The stage show was 2 hours and half long. It was like summarized fairly tale version of the novel and film. It is surprising to know such show was played by Japanese actors. It is like Americans playing Samurai and Geisha.
Overall the show was well-done. I do not have to compare that with the film version or original novel. Stage version has its own flavour. This story has good essence of making good story telling. Like contrast of characters, contrast of situations. Good transition and developments so that viewers can easily follow.
However, I do not enjoy the story as much as before.
The story is in fact, unrealistic in the following points.
1. Egoistic and moody girl like Scarlett could attract so many men.
2. Such spoiled girl growing up in a wealthy family could take care of giving birth of a child and live through turmoil after the war.
3. Such young lady fell in love with much older guy like Rhett.
Furthermore this story has been criticized for romanticizing the slavery time in the South.
Afro-American people were portrayed as loyal slaves reveling with their oppressors. In the original novel the word "nigger" was repeatedly used. There was an event that Scarlett was assaulted by a Afro-American robbery and her second husband, Frank Kennedy took a revenge of that being Koo Klax Kuran.
Indeed the story was written from the viewpoint of conservative white people in the South. Slavery shouldn't be romanticized.
I am recently interested in an actress, Hattie McDaniel in the film version who won Academy Supporting role award. The film was clean-up version compared to the novel. Not using the word "nigger," Scarlett being assaulted by white man instead of Afro-American. Scarlett's Mammy played by McDaniel did played a very important and active role in the film.
I guess it was because the producer Selznick was Jewish and sharing some oppression experience with her. The film was made in 1930's when Nazi-Germany arose in Europe.
McDaniel made a speech that she was glad to receive the award on behalf of Afro-Americans. She did the great job in that sense although she had to play a sterotype role.
I guess it would be more interesting to make a film of how she lived and how she acted in the fim during that time. Such thing should be focused.
On the Stage version I saw slave role actors put black paint on their skin to look like Afro-American. Scarlett screamed at a slave "Kuronbo (meaning Nigger)." Scarlett was assaulted by Afro-American robbery. These are wrong things, aren't they.
10 October 2010
The story is the experience of one young Japanese woman dating with American man who speaks very good Japanese.
They got along very well but somehow they found difficulty understanding each other.
One thing the American man could not understand was Japanese people's manner of humility, like saying bad things of yourself and your family to other people. Like giving a present saying "Sorry, this is such a poor thing." That actually means "I am humble so that I do not boast my present although it is a great thing. I do expect you to like it."
If you are foreigner living in Japan or planning to stay in Japan, I would highly recommend you to watch this. The DVD is released so you can rent it and the film comes with English subtitle program.
In my opinion, making friends with or marrying a foreigner is kind of hard thing to do, especially with Americans.
I recently participate in anti-US political activity such as protesting US military presence in Japan.
However, personal relationship and diplomacy between states should be treated separately.
No matter what happens between the countries they belong to, a loving couple should have the right to be happy.
04 January 2010
On 2nd of January, 2010, I went to the imperial palace to see annual new year greeting by the Emperor Akihito and his family members.
That was the day usually closed area of the palace becomes open to public. People with Rising Sun flags entered the palace and saw the emperor on the palace balcony covered by glass from the ground. He said "I am glad to have new year with all of you."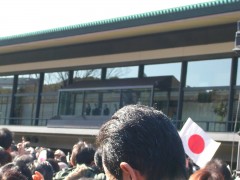 I am usually asked what the emperor means to us. Well, the answer is nothing. We are told that the emperor is symbol of the State.
But generally, he is far away from us. We know he does exist but we are not interested in him and his family.
I do think I have to appreciate his existence because the emperor functions great deal of our society.
Some claims the imperial system suceeded by bloodline should be abolished but I disagree. The system benefits our nation.
Under the emperor, we are all unified as Japanese. That's a good thing.
The emperor works as great diplomatic tool when it comes to dealing with big nations like China and the U.S.
Last month the emperor met with China's No.2 politician regardless earlier appointment than usual.
That gave a signal to the U.S. that Japan is placing more importance on China than ever.
The U.S. and Japan have a quarrel recently. China has now become a big card for us.
Anyway, I am glad we have such a great imperial system. Imperial system is a tradition of over 1000 years.
A Happy New Year with the Emperor!