30 November 2008
That was DVD of the reality program broadcasted in U.K.
Ordinary people experience early 20th century life of rich family who owns a very big country house and their servants for 3 months.
They live exactly the same style as the old days wearing the same clothes.
The gap between the family and the servants was very obvious. The servants have to work all day long without day-off.
The family never know how hard their life is. That is like working poor of present days. They had work in such terrible condition with meager pay. Not only that, in those days there was no law to prohibite such slave-like treatment. Even if servants got sick, their masters can easily lay them off.
The other interesting thing is that how the relationship of Britons and colonial Indians in those days. It was imperialist time.
Great Britain colonized India. Indians seem to have had very hard time by British imperialism. But interesting thing is some Indian people admired British Empire. Some of the parliament members were Indian at that time.
Exploring old times is really fun thing. It is like doing time-travelling.
My interests in history inspired me to write some interesting novels such as below.
I am planning to write novel which a story takes place in 1930's Germany when Nazi came into power. A young Japanese woman and a Jewish man met in Berlin. They fell in love but Nazism got in their way. What do they do?
Or I may be writing a story that takes place in 1950's America. Young Japanese Fulbright exchange student rent a room in a middle class American couple. He was treated well by them. But the couple had some problems. He tried to help them out.
Or two young Japanese men came to London in late 19th century to study very sophisticated western science and culture. One was a big admirer of Western civilization and the other was very samurai-minded man who prided himself as Japanese but at the same time he thinks he should learn great things from the West for modernization of Japan. They met a British man who was Western supremacist who looked down upon other civilizations. They had to deal with him.
Wouldn't that be interesting?
09 November 2008
I love this Commerical.
Great and creative!
Think about it. Things went too far. It usually takes so long for ordinary people to accept new idea.
They rushed and that resulted in the failure.
Why do they demand so much? They've had enough already. After all, marriage itself is discriminatory institution.
and this one, too. That partly represents my opinion.
20 October 2008
I went to Former Furukawa House & Garden Park in Tokyo. The house and garden used to be owned by one rich family named Furukawa, who established very big conglamour. The house was designed by British architect Josiah Conder. It was built in 1917.
Now it is owned by the Tokyo metropolitan government. It is beautiful, especially the time like this with beautiful roses blossoming in the garden.
See the photos of the below.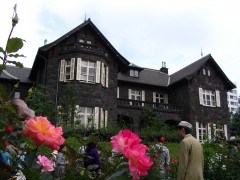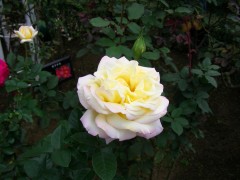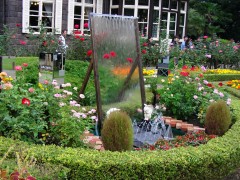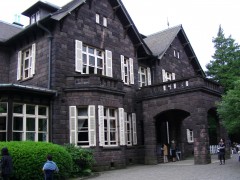 I'll post some more photos of the garden on album section.
The Poem reading and guitar playing show was held in the garden. The below photo is a woman reading a Shakespear's poem.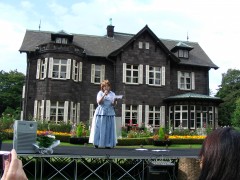 You can also enjoy the You Tube clip of the visit.
Enjoy the acoustic guitar playing at last part. It was very nice.
15 September 2008
On 14 of September, Sunday, I visited Japan's most famous shrine in Nikko city, which is 2 hour train ride from Tokyo.
It is called Nikko-Toshogu. The shrine was established for the grave of the Shogun, Tokugawa Ieyasu, who established Tokugawa dynasty in early 17th century. The dynasty established unified Japan. He placed Japan's capital in Tokyo, which was called Edo at that time.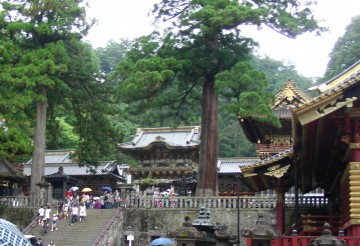 The reason I went there is not just to enjoy the views of the shrine but to pray the Budha or enshrined spirits to protect Tokyo capital region. The shrine is said to be built to forever protect Tokyo capital region. Tokyo is now in dangerous period because the dangerous ship of barbarians are coming and to be anchored very soon. Read this article.
The views of the shrine was magnificient. I really enjoyed. A lot of foreign tourists were there. The decorations of the shrine's gate and walls are very artisitic. The statues of Budha, engraves, paintings, all satisfied my expectations. The shrines decorations are relatively flashy compared with typical shrines in Japan. But they are still Japanese and outcompete Chinese temples or old buildings. I really found another type of Japanese beauty.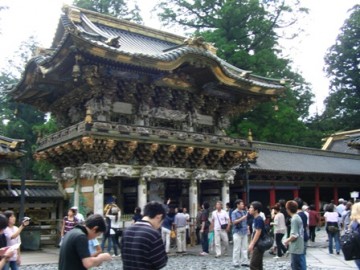 Next to this shrine is third Shogun, Tokugawa Iemitsu's grave shrine. He is grandson of Ieyasu. Iemitsu in fact established foundamental systems and rules of the dynasty that ran 15 generations, more than 260 years such as seclusion, banning of Christianity and alternate year attendance for regional lords. Those things were done to prevent colonization by the West and separation of the country. He really was great Shogun. Interesting thing is he was known to be very gay Shogun. Although as Shogun, he could have many girls to sleep with, he never made any successor until middle age. He had gay relationship with his retainers. It was openly done because being gay was not conceived inmoral thing in those days. When he died, one samurai lord committed suicide because he was very loyal to him and had strong love relationship with Iemitsu. Well, that is how Japanese samurais were different from western knights.
The below is video clip of the visit on You Tube.