10 October 2010
The story is the experience of one young Japanese woman dating with American man who speaks very good Japanese.
They got along very well but somehow they found difficulty understanding each other.
One thing the American man could not understand was Japanese people's manner of humility, like saying bad things of yourself and your family to other people. Like giving a present saying "Sorry, this is such a poor thing." That actually means "I am humble so that I do not boast my present although it is a great thing. I do expect you to like it."
If you are foreigner living in Japan or planning to stay in Japan, I would highly recommend you to watch this. The DVD is released so you can rent it and the film comes with English subtitle program.
In my opinion, making friends with or marrying a foreigner is kind of hard thing to do, especially with Americans.
I recently participate in anti-US political activity such as protesting US military presence in Japan.
However, personal relationship and diplomacy between states should be treated separately.
No matter what happens between the countries they belong to, a loving couple should have the right to be happy.
04 January 2010
On 2nd of January, 2010, I went to the imperial palace to see annual new year greeting by the Emperor Akihito and his family members.
That was the day usually closed area of the palace becomes open to public. People with Rising Sun flags entered the palace and saw the emperor on the palace balcony covered by glass from the ground. He said "I am glad to have new year with all of you."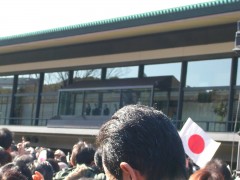 I am usually asked what the emperor means to us. Well, the answer is nothing. We are told that the emperor is symbol of the State.
But generally, he is far away from us. We know he does exist but we are not interested in him and his family.
I do think I have to appreciate his existence because the emperor functions great deal of our society.
Some claims the imperial system suceeded by bloodline should be abolished but I disagree. The system benefits our nation.
Under the emperor, we are all unified as Japanese. That's a good thing.
The emperor works as great diplomatic tool when it comes to dealing with big nations like China and the U.S.
Last month the emperor met with China's No.2 politician regardless earlier appointment than usual.
That gave a signal to the U.S. that Japan is placing more importance on China than ever.
The U.S. and Japan have a quarrel recently. China has now become a big card for us.
Anyway, I am glad we have such a great imperial system. Imperial system is a tradition of over 1000 years.
A Happy New Year with the Emperor!
24 December 2009
The story was written by Japan's infamous novelist, Natsume Soseki. The novel was released in early 20th century. The novel starts with the sentence "I always called him "Sensei (Sir)." It is a memoir of a man who met a cool older guy on the beach. When the two guys first met, they both wore swim suits like this.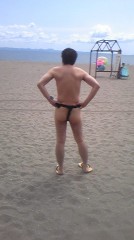 He was attracted to this Sensei. He actually fell in love with him. Sounds like gay love.
But Sensei was married. He said he cannot accept the main character's love because he had bad record in the past.
The past is that he betrayed his best friend in order to get his current wife. His friend then committed suicide by his action.
The main character learnt that after Sensei committed suicide.
I first knew this story by theatre play. That was really good. Then I read the book. That was good as well.
I always want to be a novelist like Soseki. I write novels on this blog and my Japanese blog.
Is it bad to live as novelist? "Novelist" is my dream job.
I've never got any chance of becoming one.
Next year, I hope I can make it. So, please, somebody give me the chance!!
01 October 2009
The film featured early life of the founder of world's most famous fashion brand, Chanel.
The film started with her life as an orphan and later she became a singer in the bar. She found a patron, a rich peer man but she fell in love with a rich English businessman who later supported her avant-garde fashion business.
It seemed like Chanel was a whore rather than an independent lady who invented very liberated forms of women's clothes.
But she had no choice just like other women in those days. Women did not have rights to vote. Women did not have their own named bank accounts. They had to wear heavy clothes with so many accessaries, long skirts that bottoms should be on the ground.
The film was overall very boring but the message was kind of strong that her successful career came from her painful life experience.
I guess we had to know this side of her story to know life is not easy. The below photo is what I accidentally found on the street in Tokyo's shopping district. The lady in the photo secretly depicted Chanel's painful life experience before she got successful career.