31 January 2021
President Joe Biden and Vice-President Kamala Harris were sworn in.
That is a good news. No more Trump's stupid administration.
Biden decided that US return to Paris Accord and WHO. The Democrat President should have better policies for the world.
But will he reunite America after Jan. 6 US Capitol riot in which thousands of white supremacists stormed into US Capitol building to take over Congress to stop officially electing new president.
In fact that was the true figure of America, dominated by white supremacists. America has been that way since independence.
America is fundamentally White Christian society. That is never changed.
Because Trump was too bad for his position, people ousted him but still as many as 75 million people supported him, most votes among sitting US presidents in history. Most Republican Congressmembers and Senators opposed impeachment of Trump.
Trump actually opened Pandora's box. A big "Go back to White America" movement is already on.
When Biden was sworn in at the inauguration ceremony, he placed his hand on a bible book. It means US President must be Christian.
That is OK. I always thought America is white dominated Christian society. I condemn racism but I do not think America should try to become more diverse society accepting more of different kind of people.
That is America's choice. That is part of reason that Harvard restricted admission of Asian students by using racial quota affirmative action because the university does not want its campus dominated by Asian students.
Black Lives Matter movement is met with disagreement since it is known more Black people were shot by police officers because they tried to fight back the police more often than other people.
Racism comes with social economic inequality. If one is born in a poor family, he or she has less opportunity to have good education including social manners. That resulted in less opportunity to obtain higher income jobs.
Things are getting complicated, not easy to resolve.
Meanwhile, America will be further divided by white America and Anti-white-America movements. That division, I think would not be amendable. Which America is better to deal with?
15 September 2019
A story of a Mexican American woman who worked in Japanese cuisine restaurant for the purpose of getting a stable job and later came to want to be a sushi chef. The story took place in California.
In Japan you can rarely meet a female sushi chef. It is said that women are unfit for the job because their body temperature is normally higher than men so they cannot grip rice and raw fish properly.
But such things are nonsense. The bottom line is it is just male chauvinism that prevented women from entering that industry.
In the film the owner of restaurant preferred Asian men standing and making sushi inside counter facing directly to customers. It was his intent to keep the image as a Japanese restaurant. She cooked in the inner kitchen. She could make better sushi and never smoke but Asian men who smoked were allowed to face customers.
Why are we so stubborn?
The film seemed to question how Japanese should deal with new ideas and educates us how to live with diverse population. Meaning we have to give up conventional stereotypes of our own.
There are many foreigners who do Japanese things lately. There are many foreign sumo wrestlers. There are many women who do what traditionally men do.
A dark skin Mexican female sushi chef indeed looks odd to us but that doesn't mean it is wrong. As long as they can make delicious ones, it is desirable.
In the film protagonist knew importance of freshness even before she became a chef. That is very much related to sushi making.
Japanese cultures are not just for Japanese to enjoy and preserve but all of the people in the world.
Besides above, what you can learn from the film is sushi rice is made with vinegar, sugar, and salt. Japanese chef use carbon steel knives, sticking chopsticks on rice is very inappropriate act which resembles funerals.
Great lessons for Japanese viewers. Most Japanese never knew.
16 August 2017
The world is shocked by white supremacists' march and subsequent terror attack to its counterprotestors in Charlottesville, Virginia, and President Trump's response to the incident.
To me, it was the same day I participated in a peace march protected by the police force and met with nationalist counterprotestors on the sidewalk. Prior to the march, the police blockaded the roads so no nationalist would not enter the march route. The peace activists protest the Yasukuni Shrine ideology (justifying Japan's invasion of Asian neighbors) and its enshrinement of the war dead in WW II. Just like General Lee Statue of the Confederate Army.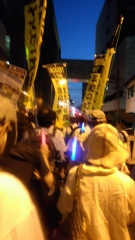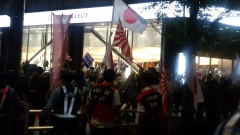 What happened in Charlottesville is reverse. The marchers were nationalists.
Donald Trump has been criticized for his not naming white supremacists or Neo-Nazis as offenders, instead he blamed "many sides" or "both sides" for the incident.
He claimed that if they wanted to remove General Lee statue because of slavery related history, George Washington and Thomas Jefferson should be removed as well because they were slave owners.
Yes, he made points. America is founded on slavery, and massacre of Native Americans.
Liberals and mainstream media have harshly criticized Trump's statements, which seemed to condone white supremacists' action. More and more people join counterprotest to the rise of white nationalist movement. But it is the fact that some portion, not very small portion of the population supports white nationalist views. That is why he was elected.
America is in fact, European immigrants nation. Majority should be white. In coming decades, white will not be majority but fall into minority, less than half. Currently still more than 60%. Silent white majority now feels threatened because true American identity may be lost. Trump exposed true nature of America.
America, as melting pot, salad ball, mosaic is in fact, illusion. The reality is white dominated Christian base society. If other people want to join, they have to compromise to be second-class citizen. That is the same everywhere in the world. It is very, very difficult to change the society. Tradition and core demography cannot be changed easily whether it is good or evil. Obama, as Black president was exceptional. That is why such whitelash is happening.
To me as Japanese, if America is not white majority nation, it is not America I know. Most of Hollywood film actors are white. So it is the time we, Japanese and other people in the world to change the view of America.
America is no longer or has not traditionally, free and democratic and friendly nation that respects diversity and dignity of other people than whites. They were really good at advertising good images but the truth is not how they portrayed themselves to the world.
Good example is Guam in US Pacific territory and Okinawa, Japan.
Guam people have no rights to elect US President. Guam is small islands but one-third of the areas is occupied by US military bases. Locals have no rights to change the situation just like a colony.
In Okinawa, there has been anti-US military base movement led by Okinawa prefectural governor, Onaga. Majority of prefectural residents want US military, especially Marines out of their land. But the U.S. persists in stationing there in the name of defense of Japan, which in fact, they do not so.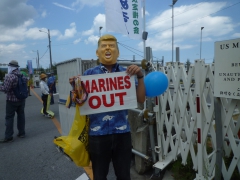 Good thing about Trump is he insists on removal of US forces from Japan because US no longer wants to defend foreign nations but prioritise domestic issues. Other US Presidents look politer but still want to keep hegemony of the world. Trump is destroying his nation's reputation so that US cannot lead the world any longer. More and more people stop treating America as the world leader or a role model of the democracy.
Trump looks crazy but may try to normalise his nation and the world.
25 May 2017
The film "Race" features life of Jessie Owens, an Afro-American truck and field athlete who won 4 gold medals in 1936 Berlin Olympic game. It was a time that segregation was legal in US and Nazis ruled Germany.
What surprised me was at that time, there was a boycott movement for joining the game. Jessie Owens was asked to boycott the game by NAACP, prominent advocate group for Black people.
But he went to Berlin to participate in the game along with two Jewish athletes, whom Nazis were reluctant to welcome. AOC, American Olympic Committee decided to let US team participate in although opinion among committee members were split. The film implies it was due to the committee leader who collaborated with Nazi-Germany in exchange of big business deal.
Then in the game, two notorious events occurred. In the long jump competition, Owens fouled the jumping in first two of the 3 tries in qualification match. But his German competitior, Luz Long advised him to step back a foot behind the measurement start point. The he did and passed the qualification to the final. Then he won the gold medal marking the Olympic record. After the awarding ceremony, Owens and Long walked on the truck together holding arms looking like good friends. It was very much anti-Nazis action. A white man and a Black man holding arms together walking. Long stood on the podium raising his right hand in the form of Hitler salute. In addition, in that competition, in the third place, bronze medalist was Japanese, Tajima. Actually Japan had medalists in truck and field competition in 1930's. That is far different from what Japanese truck and field society has been lately.
The other thing was two Jewish American athletes in relay competition was removed from the team just in advance of actual competition. It was due to Nazis demand to promote their anti-semitism ideology in the game. AOC leader who collaborated with Nazis was blackmailed to do so, otherwise, the collaboration would be exposed to the public.
Then Owens became a replacement for one of the two atheletes. Then his team won the relay competition.
After he got home, he was welcomed in a parade by a million of people on the street in New York. But he was not allowed to enter to a hotel in which a celebration party was held, so he had to go through back door of the hotel.
Kind of surprising stories in that era. 3 years after the Olympic game, Germany started the 2nd world war. Japan became an ally with Germany. 3 years after the war started, Long, who became Owens' friend died in the war, leaving the message to Owen that he wanted Owen to take care of his son.
How dramatic the stories were! How ugly and beautiful the things were!