17 May 2009
Miss Japan for this year's "Miss Universe" competition was selected, 24 year-old fashion model.
In 2007 Miss Japan won Miss Universe Crown. Was that good news?
Actually, I did not care and even despise the praise people were making.
This pageant should be criticised for its sexist and racist aspects.
Contenstants were expected to be gentle and cheerful girl. They have to be neutral in the sense of politics.
That is why Miss California was said to have lost the crown of Miss America because of her remark on the same sex marriage.
Women are evaluated based on skin deep and appearance by swim suits and evening gown. Not by their character or ability.
That is a traditional role of women in the society. Poor girls, they still want to be loved by playing such old-fashioned woman.
The standard of beauty for the pageant is western measure, not universal. It is myth of universalism.
Always a white woman won. Otherwise a woman who looked like white woman who suits high-heels, dress, and tiara did. Skinny and lighter skin color is recommended.
In some parts of the world, like in Southern Pacific islands or Calibu, fat women are considered attractive. Very different from western world.
Why is "Miss Universe" winner considered the queen of the world? No. They cannot represent the world's beauty.
There are numerous standards of woman's beauty. The pageant is very imperialistic thing.
By showing the pageant globally, the people of the world are brainwashed to believe western beauty is the only beauty of the world.
Nonsense and racist. We are not so dumb any more.
Such an event is unfitted to 21st century. Anti-feminist and anti-multi-culturalism.
The pageant should be abolished to ban discrimination.
22 February 2009
Well, very surprising! The movie was made in 1940 but the most important character was Black boy.
It was midst of World War I.
The story is a boy named Abu who lived his life by stealing things in Baghdad, met a young ousted king, Ahmad. Ahmad fell in love with a princess in Basra. Jaffar who was a closest retainer and ousted him to take over the position wanted the princess, too. Abu tried to help Ahmad and the princess. Then at last he killed a bad guy, Jaffar and saved the couple and had Ahmad to bring back his position, the king of Baghdad so that he could rule the kingdom peacefully. Ahmad said he wanted not to conquer the people but make them all happy.
Jaffar was Hitler at that time, or Hussein between 1979 and 2003, No! It is Mr. George W. Bush. Real war criminal.
Looked like a real story, I hope. Abu actually looked like Barak Obama, president of the United States.
Abu was a thief but very clever and brave. This was very different from a stereotypical Black character made by Hollywood. In fact it was British film.
In the last scene, Abu flew on the flying carpet and said to the king "I will go on a trip to find out what I want to do."
Well, the destination may be where Mr. Barak Obama is.
06 July 2008
Last month, I mentioned the below ad was racist using monkey as OBAMA in presidential election campaign.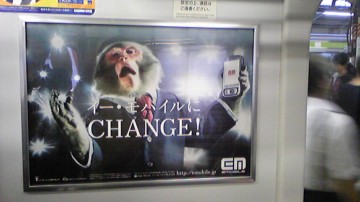 The company that uses the ad, EMOBILE admitted the commercial was offensive to Afro-Americans considering the historical fact that monkey character had been used to portray Blacks as inferior creature to other people. Then early this month, they announced they would not air the commercial on TV and pulled the ad. However, they said they never meant to insult Black people by this ad because monkeys has been their maskots in their company's products.
I've mentioned this issue last month on this blog, see this article posted on June 21. I also mentioned on Japan's well-known internet newspaper, JANJAN. This is the article (in Japanese.) Some people object my view because I seem to make extreme interpretation of the ad concept. There are a lot of commercials that use animals to portray human characters.
But as a result, I was right. EMOBILE received so many complaints from Americans living in Japan. CNN covered this story. I knew that would happen because I used to live in the U.S. and learned so much about history of racism. I took Black Studies course.
Well, that helped. Most Japanese are ignorant about this issue because our society is much less diverse than the U.S. in terms of race and ethncity.
EMOBILE wasted so much ad budget but they learned good lesson. So did many Japanese citizens.
21 June 2008