23 November 2009
Actually this is Japanese book written in Japanese and first published in Japan as "Aaron Shuyojo (Aaron Camp.)"
It was later translated into English. The book wasn't very popular in Britain. But in Japan it has become one of the most famous book of POW experience in the second world war. The writer Yuji Aida, who was drafted to the imperial army became captive in Burma by British military after Japan surrendered. He wrote the book after he came back home.
I learned about this book since former Air Force Chief, Mr. Tamogami, who was dismissed after releasing controversial essay in public quoted this in his speech to justify Japan's aggression in the war. To say it was the war to liberate Asians from white dominated nations.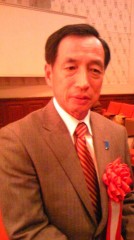 The below is what I was impressed in the book including what Tamogami quoted.
1. When the prisoners complained about the treatment, British officers said "That was what exactly your military did to us."
2. When one of soldiers in his corp apologized to the British for the war, the British preached him not to apologize because he believed he fought against Samurais.
3. When the prisoners went to female officers' house to clean, they met naked women hanging around not being embarrassed by their presence.
4. British higher ranking officers were taller than their low ranking subordinates and spoke different English because the high ranking people were from elite class.
5. Burmese were friendly to Japanese because they had been oppressed by the British under colonization.
What Mr. Tamogami quoted was No.3. The writer's analysis of why they weren't embarrassed was that they did not see Asians including Japanse as same human race. Asians were regarded as livestocks or animals, they should have reacted differently if white men came into their house. White racism was more sophisticated than Japanese one because Europeans had raised livestock in order to make a living so they got used to treating other people inhumanely. White people's brutal act was systematic rather than emotional. That was how he viewed.
I don't agree with his opinion. Japanese did systematic slaughter in the past. Like 731 Unit in Manchuria, and mass-murder of POW in Nanjing, China, 1937.
Recently Japanese people have become hostile to westerners and more nationalistic, so such thing was brought up.
However, I wonder if you, white reader would agree with the writer's points of view?
Are white women react not embarrassed if Asian male stranger came into the locker room when they are naked? If a stranger was white man, they would be embarrassed? Or vice-versa?
14 September 2009
Recently controversial Manga (Comic) book was published in Japan. The comic was digest version of what is written on original thick book, "Mein Kampf (My Struggle)."
Left one is comic and right one is Japanese complete translated version.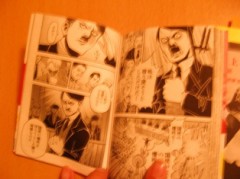 As you know it was written by Adolf Hitler, dictator of Nazi-Germany, the book described his biography from when he was childhood until imprisonment after Munich rebel in 1923. It contains so much of Anti-semitism.
The pictures of the book reminds me of CBS Minis-Series "Hitler, The Rise of Evil." Surely the book and the drama should somewhat overlap because both are at least partially based on the same book.
In Germany publication of the book is banned. Actually the book wasn't very popular one at the time it was published.
This comic version is one of the series of classic literature including "Crime and Punishment," and "Faust."
I am recently very interested in Hitler and Nazi-Germany. How he got on the top and why such atrocities happened.
Recently Japan experienced similar phenomenon, an Air Force Chief was fired because of his provocative essay released in public which contradicts Japan's position of war responsibility and justified what Japan did to neighboring nations such as occupation and colonization.

His statement to the government's treatment was really similar "Strangely I was fired because I've made good statements for the nation."
After he left defense ministry, he became an icon among right-wing people. He published several books and made speeches all over the nation. I am sure he will run candidancy for next coming election. Strangely I, not so conservative person have been very much attracted to him since his public appearance. I bought one of his books. I went to his speeches and shook hands with him. Please read this if you want to know more about my passion for him. That is why I am feared. He has charisma and intelligence to lead people.
So that is why I am studying things about Hitler and Nazi-Germany.
I am now writing a novel which the story takes place in 1930's Germany on this blog. The theme of the novel is Nazism versus liberalism such as Bauhaus art. Please read "Bauhausler" if you are intereted.
20 August 2009
See this videoclip! He is Japan's new hero. Sorry, only Japanese version.
His speech in Hiroshima. Scenes of anti-nuke group activities, and Uigurs who protest nuclear tests done by China (time code: 3:42) in the city come first.
And the people who protest and support his speech (time code: 6:34) and then scenes in the convention hall which his speech took place.
He was Japan's Airforce chief but was dismissed because of his provocative essay he released in public.
I've already introduced him in other article on this blog. Please read this.
He is passionately patriot. But his statements were too provocative.
But he and I have things in common. Both of us want to get rid of U.S. military bases from Japan to protect our sovereignty and tradition.
He even claims Japan should arm with nuclear weapons.
I've met him twice and shook hand with him. I could take a picture of him. The below is what I took at Kudankaikan hall in Tokyo, where his speech was held.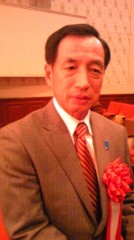 He was very polite and gentle. His speech was filled with passion.
Second time was the meeting for journalists. He has made a similar speech. I was given a opportunity to ask a question. I denounced his statement about denial of Nanking Massacre because I've met some survivors of the atrocities. But I said to him, I am for Article 9 amendment so that Japan can possess legitimate military but it was illegal to cause civilian casualties even at the time Nanking Massacre occurred. Why not we swear not to repeat the same mistake like Germany did?
His response was kind of surprise. "I've met a military official in China. They spoke so ill of what our military had done over there. I wanted to tell him, why not they spoke the same things about Britain? We are better than what Britons did. The Convention treaty was signed between the two countries. It was done. Why can't we forget about it?"
He seemed to admit the fact that the atrocity occurred. He was kind of honest and clever, I think. He just try to use this history issue to change his country's military policy. Interesting guy!
Thanks to him, I rethink about what patriotism is and what our tradition is. I became patriot and traditional.
Recently I started to wear Japanese traditional clothes including swim suit of the below. The suit became unpopular since the U.S. occupied Japan because Americans thought such Japanese tradition was barbaric. Now I am trying to recover this tradition. I am proud of wearing it and showing myself in it in public. This suit makes any man sexy and real Japanese traditional man, so called Nihon Danji. It is not only used for swimming but participating in festivals. The below is how I wear it, please enjoy watching.
12 August 2009
Walt Disney has been known as Hollywood's most racist and sexist person in history. His movies reflect his views.
"Sleeping Beauty" was one of the good examples. It reflects public opinion at that time. The film was released in 1959.
The princess named Aurora was cursed by a witch. The curse was that she would die at the age of 16. One of kind fairlies tried to get rid of the curse. But what she could do was to make it rather gentler one, which was fall into deep sleep until she be kissed by a man she loved.
3 things matter in the story.
1. A woman should be waiting for a man whom she has to depend on.
Girls are made to believe that. They are not expected to be independent. They are brainwashed to believe that they cannot live without reliable men's supports. How pity!
2. Bad guys are all Black.
Black witch took on the princess and prince. Her subordinates are crows. In the old days, crows are discriminately term for Afro-Americans. Disney would be surprised to know President Obama.
3. Your private life would be sacrificed for the statehood.
Like marriage between Princess Aurora and Prince Phillip who was her neighboring country's prince. Although they met in a forest accidently without knowing who they really were, they fell in love as though they had already met "Once upon a dream." That implies that people should think it is honorable to sacrifice your life to serve your country. Think that is your destiny.
Wow, interesting analysis! I don't like Disney film because they always contain such brainwashing methodology.
Disney films are great teaching materials for media literacy. DON'T BE BRAINWASHED, GOOD AND SMART PEOPLE OF THE WORLD!!
Remember Disneys and Nazis are lookalike. I want Tokyo Disneyland removed from our land as well as US military bases.
TOXIC and DANGEROUS!