23 January 2016
From last December to beginning of this month, I was in Okinawa to join protest activities of locals who are opposed to construction of new military base runways in US Marine Camp Schwab in Nago city, Okinawa.
Why we are opposed has been described in this blog for years. Please read the posts clicking the tag Okinawa.
Especially, this article gives you outline of what is going on there. My letter to US Ambassador to Japan, Caroline Kennedy, daughter of JFK.
While I joined the protest, I used picket board that says "We are Rosa Parks."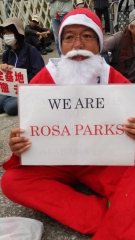 Rosa Parks as you may know, is the symbol of refusal to unjust matters. A Black woman who refused to give front seat to white passengers in a bus and was arrested in Montgomery, Alabama, 1955. But her action sparked bus boycott protest led by Dr. Martin Luther King. 9 years later, civil rights Act was passed. A year after that, Dr. King led peaceful march from Selma to Montgomery to call for enactment of voting rights bill. Black people in the Southern states were blocked at voting registration office.
What surprised me was marines reaction to the picket board. Young marines looked positive. I asked one security guard, who was a young white man inside the camp premise, if he knew what it meant. He said smilingly "I know what it means." One Black man driving a car looked at me, smiled and gestured his support. "Rosa Parks" is known to every American.
I saw the movie, "SELMA" after I got back home in Tokyo. It was a great movie. I found how hard it was for him to do this. A lot of people were hurt and even killed. But he and his followers never gave in.
Interesting thing to know was Dr. King was a very smart man so that he once retreated the march to avoid bloodshed by local police. He filed lawsuit against the Alabama state that bans peaceful march. Then the court made an order to allow the march. He prevailed.
Just like Rosa Parks and Dr. King. we did peaceful protest at the gate of Camp Schwab. Sit-in-protest at the gate that construction vehicles passed through.
Police came and took us from the gate. We never foughtback but just kept sitting down on the ground. I was carried by the police from shoulders to toes.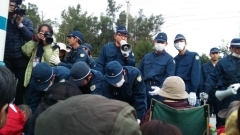 Protestants do every day. It has been going on for years. There were several injuries and arrests. But we still keep doing this. We cannot stop the construction but at least we are delaying that. We will never give in.
While I joined in the sit-in protest, I really felt like Rosa Parks, Dr. King and their followers in their times. We may be backed up by their souls.
Thank you, Dr. King and Ms. Rosa Parks. I am proud of being part of this protest activity.
The US government should hear the voice of protestants and halt such stupid construction project. It is as stupid as segregation laws. It is actually what is happening in your own yard.
15:28 Posted in Ecology, Film, Japan News, Politics, Society, US-Japan relationship, USA issues | Permalink | Comments (0) | Tags: history, military, okinawa, racism, afro-american
31 March 2015
I recently bought and read a very interesting book on Germans living in Japan during 1930's and 40's, when Japan was in war with China and the USA. The Japanese title is "Senjikano-Doitsujintachi." It illustrates very unique history between Japan and Deutchland.
There were estimated over 3000 Germans living in Japan in that period. That is as much as number of Germans living in Japan now.
During that time Japan was allied with Nazi-Germany. But the German law did not apply. So Jews could live safely in Japan. Not only Jews but exiles did like a former judge who convicted Hitler in 1920's. Other European nations were too close to Nazi-Germany so anti-Nazi people escaped to Japan crossing the Russia.
For them, Japan was like a paradise. Japanese respect Germans because Germany was considered a civilized nation that Japan should model after and was indeed the most important ally for Japan.
Nazi influence was already there. Nazis established a branch in Japan, early 1930's. However, in order to arrest anti-Nazi German citizen, they needed to ask Japanese police to do that. The Japanese at that time did not get along with Nazi ideology, expecially anti-Jew stuff.
Japan and Nazi-Germany made a Cultural agreement that bans using Jew-related materials in education. But even in 1940's Heinrich Heine poems were taught in Japanese colleges. No Japanese could not see the difference between Jews and non-Jews.
The wife of Foreign minister of Japan at that time was Jewish German. Japan was reluctant to corporate with Nazis in terms of oppression on Jews.
Not only Jews and anti-Nazi Germans but Germans who had lived in Indonesia which was former Dutch colony came to Japan after they were freed by the Japanese military. Germans in Indonesia were put in internment camp after Germany invaded Netherland. They were welcomed as citizens in an allied nation.
Japanese praised Hitler as a good and powerful allied nation's leader but did not care about details of Nazis policies. The Japanese government at that time corporated with Germany mainly to counter the U.S.
But after Gemany surrendered in May 1945. Their situation was drastically changed. Japanese thought Germany betrayed them. Some were arrested as enemy spies.
I am thinking of writing a fiction novel based on these facts.
Where the story took place is in Karuizawa, Nagano prefecture, highland resort for high-society in 1945. But there were Germans staying to escape from air-raid in ciities.
Some were Jew or anti-Nazi and some are nazi-sympathizers or nazi-officials dispatched from their homeland. They got along with Japanese who welcomed them feeling complicated. Some were very thankful but at the same time not very happy because Japan was allied with Nazis and some thought Japanese were second-class people not being white.
I guess it is going to be very interesting. In order to write a good story, I am now learning Heine's poems. It may be a main topic of the story.
15 February 2015
A story of a man whose father was shot in front of him on the cotton field by a white farmer and later became a house servant of the farmer and then hotel servant and finally was hired by the White House.
It is a fiction but it is based on a real batler who served the White House from 1950's Eisenhower until Reagan's administration.
It was like Black history of America.
How Black people struggled with the oppression and finally be honoured by the society.
Maybe Obama should have experienced similar things.
In order to change the society, people need to be not only brave but also clever. You cannot just fightback. You might have to get along with majority of the society regardless of their unfair treament of you.
It is a fiction but surprising thing was even in the White House, Afro-Americans were discriminated in salary and positions. It was fixed after Reagan's administration 1980's.
I like that part of America's history, not interested in founding fathers.
It is common with current event happening in Okinawa, Japan.
Because of that, America is no longer my favourite nation.
I can only feel mutuality with the oppressed Afro-Americans who lived in the past.
17 August 2013
Last month I attended my alma mater's alumni event in Tokyo.
A lot of alumni living in Japan gathered at a restaurant exchanging memories and update information of the university. One faculty member from SFSU joined and told me about current situation. I graduated in late 1990's. He said a lot more buildings were constructed on campus.
But most surprising attendees were alumnis who graduated in 1960's. They were oldest in the group. He told us about his experience in that period. There was a student strike movement in those days following civil rights act. Ethnic minority students demanded the university to require all the students take ethnic minority study related subjects. They had been frustrated with racism in the university. Classes were boycotted and school buildings were occupied. The president of the university was changed during that time. It was Dr. Hayakawa, Japanese American. He accepted that demand.
Since then SFSU requires all the students to complete ethnic minority related courses. I did, of course. I remember what I took were Japanese American studies, Black studies, LGBT studies, and history of Japanese and Chinese women. Those were greatest studies in my life.
That ethnic study requirement was what my alma mater first acquired and spread all over the US. It was a good thing that I am proud of as alumni.
So my novel idea is based on what I heard and I research.
One Japanese student who grew up in a conservative family, Hiroshima, 1960's joined the university. He longed for America and American culture. He met a lot of kind of students there and instructors. One of them was an English teacher who was Japanese American, strict and conservative. Because of his instruction his English ability improved faster.
The strike started. The president was changed. It was that Japanese American teacher. The Japanese boy expected him to understand the movement because of his ethnicity but he was actually opposing that movement and trying to supress the students.
The Japanese boy along with his friends who were white, Afro-American, Asian Americans negotiated with him. He used what he learnt and loathed from his childhood to convince the president. Japanese heritage, tea ceremony, Kendo and so on.
Sounds interesting, doesn't it?
The theme song should be "Blowing in the wind." The answer is blowing in the wind.