11 July 2010
Directed by Spike Lee. A story of Black soldiers fighting against Nazis in Italy during WW II.
Although the film wasn't well-edited but I could learn so much about WW II history in Europe, especially Italy's position in the war.
I also could learn how Black soldiers are treated in the war. They were never treated equally. Their white superior never trusted his Black comrades. Back home, they were not allowed to dine in the restaurant while enemy German POW were. They were actually treated better in the enemy line, Italy than in their home country.
Their motive of joining the war was not patriotism. They did it to better their people's social status in their home country.
The story portrays the war between Nazis and partisans in Italy. Italians were loyal to Mussolini's Fascist party which was allied with German Nazis but at the same time there was resistant movement like Partisans.
The reason that I get interested in this film is because I recently learned Italy shares the similar issue with our country in relation to the U.S. military base presence. Both of Italy and Japan are defeated nations in the war. In the city of Vicenza, Italy there is expansion plan of the U.S. military base which localies oppose just like Okinawa island in Japan. If you want to know the detail of what is happening in Okinawa, please read these articles.
The below is trailer of recently release documentary film "Standing army." Description of the article is here.
Standing Army documentary (2010) english trailer from enricox7 on Vimeo.
27 February 2010
Maybe the most famous Hollywood film in history, I think. I bought the DVD of it for 500 yen recently.
The film was 3 hour and half long and all color though it was produced in 1930's. The story of a passionate and selfish daughter of plantation owner who lived through the Civil War period.
The first public showing in Japan was 1950's because of the war. Many say how come we tried to provoke the war against the country which could produce such dynamic film.
Yes, the film was great. I was really impressed when I first saw the film at younger age.
But now I grew up and see the film from different angle. Well, it still impresses me although it is not best film for me any more.
Beautiful, dynamic scenes, georgeous outfit and interior. Actors do very serious and dynamic acts. Easy to understand script to follow the storyline and its background.
It contains basic elements of entertainment film maybe like "Titanic" and current greatest hit "Avater."
The story was well-done. It was made politically correct as Mammy was taken as a very important character in the story taking into account the time the film was made and in fact a Black actress who played that role won the Academy's best supporting actress award.
However, romantisizing or beautifying the tradition of slavery in the South before the Civil War was not something we should get along. Slavery was wrong. The wealth of the South was consequence of exploitation of Africans. It is like the old western movies that portrayed native Americans as savages and cavalries, the police for white invaders as heroes.
Furthermore, the story is unrealistic. Scarlett who was born in wealthy plantation owner's family and spoiled could live through the turmoil of the war and managed to revive the wealth. She was really fictional character.
I think the theme of the story is what is real "good." Real "good" person is realist who knows how to survive and prevail in real world getting along with reality. Scarlett played a kind of role model for that. But no one could live like that. Those who could live like that are never impressed by this film because they think it is very common practice.
Interesting fact is when the film was first released in the U.S. It was near the second world war. The situation of its enemy, Japan was similar to the Southern Confederation. People believed braveness could beat the enemy states.
After the war Japan was democratised by Yankees and the old elite class people lost so much of their asset by high rate tax imposed on them. Their glory days were gone with the wind like the Southern plantation owners portrayed in the film. The below photo is former house of the old elite class people in Tokyo. Now it has become museum park for anbody to visit and have tea and sweets.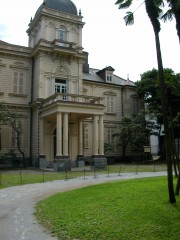 Me, having tea and sweets there.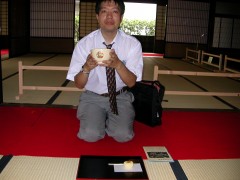 I like the ending of the film because it is not happy ending. In reality happiness doesn't last so long. If you get something good, you should lose something else. But don't get depressed too much, there is a way out and think to find a new way of living.
Yes, you can because tomorrow is another day.
23 November 2009
Actually this is Japanese book written in Japanese and first published in Japan as "Aaron Shuyojo (Aaron Camp.)"
It was later translated into English. The book wasn't very popular in Britain. But in Japan it has become one of the most famous book of POW experience in the second world war. The writer Yuji Aida, who was drafted to the imperial army became captive in Burma by British military after Japan surrendered. He wrote the book after he came back home.
I learned about this book since former Air Force Chief, Mr. Tamogami, who was dismissed after releasing controversial essay in public quoted this in his speech to justify Japan's aggression in the war. To say it was the war to liberate Asians from white dominated nations.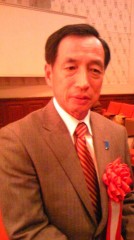 The below is what I was impressed in the book including what Tamogami quoted.
1. When the prisoners complained about the treatment, British officers said "That was what exactly your military did to us."
2. When one of soldiers in his corp apologized to the British for the war, the British preached him not to apologize because he believed he fought against Samurais.
3. When the prisoners went to female officers' house to clean, they met naked women hanging around not being embarrassed by their presence.
4. British higher ranking officers were taller than their low ranking subordinates and spoke different English because the high ranking people were from elite class.
5. Burmese were friendly to Japanese because they had been oppressed by the British under colonization.
What Mr. Tamogami quoted was No.3. The writer's analysis of why they weren't embarrassed was that they did not see Asians including Japanse as same human race. Asians were regarded as livestocks or animals, they should have reacted differently if white men came into their house. White racism was more sophisticated than Japanese one because Europeans had raised livestock in order to make a living so they got used to treating other people inhumanely. White people's brutal act was systematic rather than emotional. That was how he viewed.
I don't agree with his opinion. Japanese did systematic slaughter in the past. Like 731 Unit in Manchuria, and mass-murder of POW in Nanjing, China, 1937.
Recently Japanese people have become hostile to westerners and more nationalistic, so such thing was brought up.
However, I wonder if you, white reader would agree with the writer's points of view?
Are white women react not embarrassed if Asian male stranger came into the locker room when they are naked? If a stranger was white man, they would be embarrassed? Or vice-versa?
14 September 2009
Recently controversial Manga (Comic) book was published in Japan. The comic was digest version of what is written on original thick book, "Mein Kampf (My Struggle)."
Left one is comic and right one is Japanese complete translated version.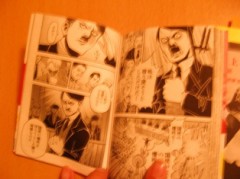 As you know it was written by Adolf Hitler, dictator of Nazi-Germany, the book described his biography from when he was childhood until imprisonment after Munich rebel in 1923. It contains so much of Anti-semitism.
The pictures of the book reminds me of CBS Minis-Series "Hitler, The Rise of Evil." Surely the book and the drama should somewhat overlap because both are at least partially based on the same book.
In Germany publication of the book is banned. Actually the book wasn't very popular one at the time it was published.
This comic version is one of the series of classic literature including "Crime and Punishment," and "Faust."
I am recently very interested in Hitler and Nazi-Germany. How he got on the top and why such atrocities happened.
Recently Japan experienced similar phenomenon, an Air Force Chief was fired because of his provocative essay released in public which contradicts Japan's position of war responsibility and justified what Japan did to neighboring nations such as occupation and colonization.

His statement to the government's treatment was really similar "Strangely I was fired because I've made good statements for the nation."
After he left defense ministry, he became an icon among right-wing people. He published several books and made speeches all over the nation. I am sure he will run candidancy for next coming election. Strangely I, not so conservative person have been very much attracted to him since his public appearance. I bought one of his books. I went to his speeches and shook hands with him. Please read this if you want to know more about my passion for him. That is why I am feared. He has charisma and intelligence to lead people.
So that is why I am studying things about Hitler and Nazi-Germany.
I am now writing a novel which the story takes place in 1930's Germany on this blog. The theme of the novel is Nazism versus liberalism such as Bauhaus art. Please read "Bauhausler" if you are intereted.